WHITEPAPERS – STAFF AUGMENTATION
A True Partnership: How Sphere Software Helped 'Gett' It Done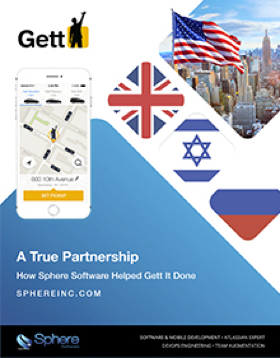 Rapidly scale your development team – technical staff augmentatio

n

Gett ( Gett.com ) is the largest provider of on-demand mobility in Europe, far surpassing Uber. Gett is available in over 100 cities worldwide, and in London alone, more than half of all black cabs are "run" on Gett.

Gett has built a technology platform that provides both businesses and consumers with mobility, delivery, and logistics. As a fast-growing company with a highly competent internal staff, Gett required more IT development resources and turned to Sphere Software for technical staff augmentation. The company wanted a partner that could work on its terms and meet its specific requirements. Unlike other projects where an entire system or application is given to the technology partner, Gett needed highly skilled resources for specific aspects of their application and infrastructure development.
Build your development team faster
For fast-growing companies, getting to market first is critical. Sphere's experts worked as full "team members" alongside Gett's staff, ensuring a high level of integration for daily tasks and activities. Ultimately, Sphere provided technical, cultural, and process support to help Gett maintain its leadership position in logistics and ride-sharing services.
What You Will Learn
---
Why Gett chose Sphere Software as a partner
How technical staff augmentation can be a competitive weapon
How Sphere developed a framework for Gett that delivered a better approach scalability
How Sphere developed three guiding principles with Gett to support our partnership
Let's build an amazing product together
BUILD A WORLD-CLASS TECHNOLOGY TEAM WITH SPHERE
---
Sphere is an award-winning provider of team augmentation and custom technology solutions. Our teams bring together expertise, process, and technology that drives business value for start-ups and mid-market organizations. As an extension of your development or product teams, we're ready to help you leverage all the opportunities that smart people and beautiful software can bring to your business.