Limitless: Your Path to Mental Well-Being and Personal Growth.
01
Challenge
Revamp Limitless's faulty mobile application and add new integrated features.
03
Results
The new mobile application was successfully launched on both iOS and Android stores within a mere 3-month timeframe.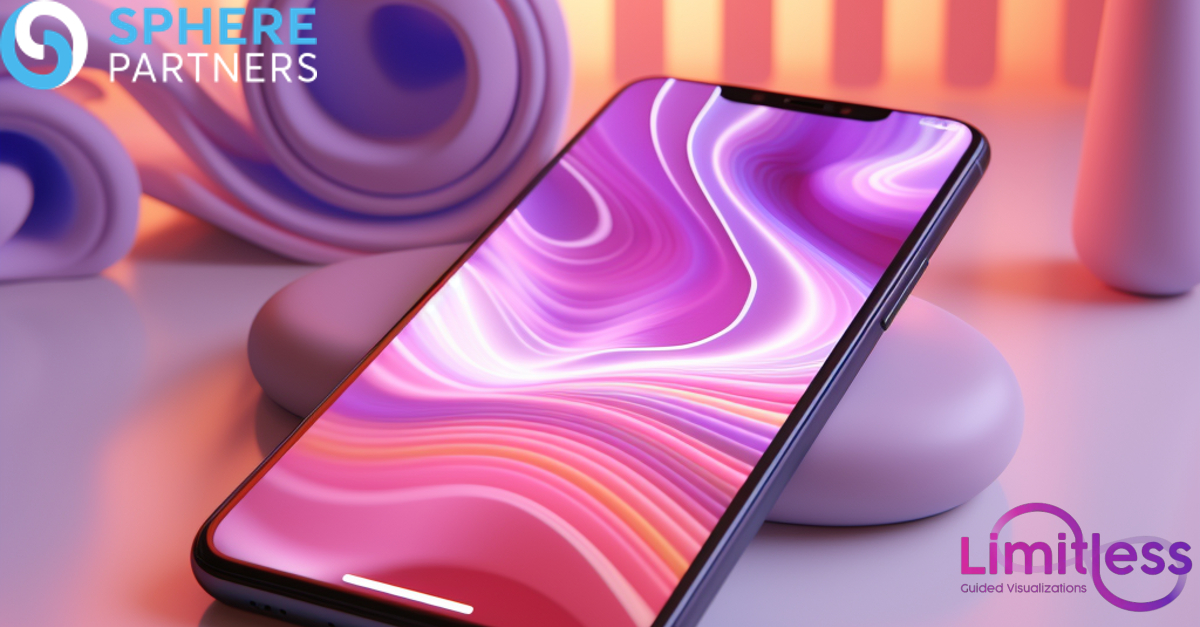 The Challenge
Revamping Limitless Guided Visualizations App for a Better User Experience
The challenge that Limitless Guided Visualizations faced was the need for a comprehensive overhaul of their existing application. The initial mobile application was a stand-alone, locally deployed system that had several issues:
Limited Functionality: The application relied on static videos rather than dynamic and reactive content. This limited its ability to provide a more personalized and interactive experience to users.
Bugs and Performance Issues: The existing application was plagued with bugs, which negatively impacted the user experience. These issues needed to be addressed to ensure a smooth and reliable platform.
Lack of Backend: There was no backend infrastructure, which meant there was no connection to user management, the Limitless website, or admin functionality. This lack of backend also hindered their ability to scale and add new features.
User Engagement and Integration: The application needed to improve user engagement by offering a more seamless and integrated experience with the Limitless website. Additionally, they needed a way to distribute licenses to clinics via QR codes efficiently.
The Solution
Limitless Guided Visualizations App Gets a Complete Makeover for Better User Experience
To overcome these challenges, Sphere Partners undertook a comprehensive approach, assembling a dedicated mobile development team to rebuild the backend, develop integrations, and enhance the user experience. This solution aimed to transform the existing application into a dynamic, bug-free, and feature-rich platform that could cater to the diverse needs of its users and involved several key steps:
Dedicated Development Team: Sphere Partners assembled a dedicated mobile development team, including mobile developers, quality assurance specialists, a designer, and a project manager. This team was crucial for executing the project effectively.
Backend Rebuild: The existing application's backend was completely rebuilt from scratch. This involved creating a robust infrastructure that could support the platform's growth and scalability.
Integration: Novel integrations were developed to connect the mobile application to the Limitless website. This integration ensured a seamless experience for users and allowed for the sharing of data and content between the two platforms.
User Experience Enhancement: Additional user experience (UX) functionality was added to the newly developed admin panel. This improvement aimed to make it easier for administrators to manage the application and for users to navigate and customize their experience.
Launch: The new and improved mobile application was successfully launched on both iOS and Android stores within a remarkably short timeframe of just 3 months.
The combination of rebuilding the backend, creating integrations, and enhancing the user experience resulted in a transformative solution that addressed the initial challenges and elevated the entire user experience of the Limitless Guided Visualizations platform. This comprehensive approach not only resolved existing issues but also set the stage for continuous improvement and innovation.
Outcomes and Results
Sphere Partners' Revamp Delivers a Stellar Outcome for Limitless Guided Visualizations App
The result of Sphere Partners' work on the Limitless Guided Visualizations project was highly successful:
Successful Launch: The new and improved mobile application was successfully launched on both iOS and Android app stores within an impressive timeframe of just 3 months.
Comprehensive Overhaul: Sphere's work resulted in a comprehensive overhaul of the application, addressing the initial challenges it faced, including limited functionality, bugs, and the lack of a backend.
Improved User Experience: The user experience was significantly enhanced, offering a more seamless and engaging platform for both new and regular users. This included easy navigation, customizable settings, and effortless access to various channels and audio files.
Integration and Scalability: The integration of the application with the Limitless website ensured a more cohesive user experience and paved the way for future scalability and growth.
Data Studio for Developers: Sphere's work also aimed to create a data studio that offers valuable insights on user experiences, content usage, and overall app engagement. This data-driven approach allows for informed decisions and continuous improvement.
In summary, Sphere Partners' efforts resulted in a successful transformation of the Limitless Guided Visualizations app, addressing the initial challenges and delivering an improved, user-centric platform that aligns with the brand's ethos of enhancing mental well-being.
Conclusion
Sphere Partners' Transformation Elevates Limitless Guided Visualizations App
In conclusion, Sphere Partners' dedicated efforts in transforming the Limitless Guided Visualizations app led to a remarkable outcome. The successful launch of the revamped application not only addressed initial challenges but also significantly improved the user experience. This collaboration stands as a testament to the power of technology in enhancing mental well-being and setting new standards in the field of guided visualizations and meditation services.
Let's talk about your Mobile Application project.
Fill out the contact form and one of our Client Partners will be immediately in touch within the next business day.
---
Our experienced senior consultants and engineers are ready to help you design your solution, scale your capabilities, eliminate technical bottlenecks, and accelerate speed to market.