Acumatica Cloud ERP Evaluation & Implementation | Certified Partner
Acumatica, the Cloud ERP, is among the most renowned and flexible enterprise solutions in the market. And, you need a flexible, success-driven, history-proven implementation partner to match.
Schedule A 1-on-1 Expert Consultation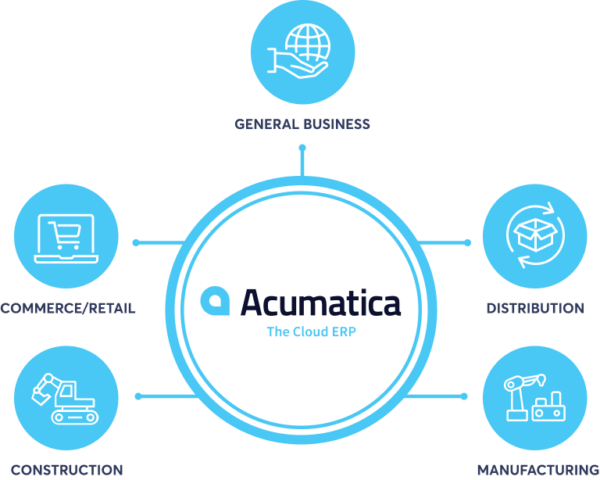 Why Acumatica?
A Cloud ERP implemented for
YOU

— a truly customized, perfect-fit enterprise solution.

Many ERP solutions in the market throw feature after feature for you, expecting you to simply choose the 10% of the functionality you actually use, and charge you for the 90%.

Acumatica begs to differ.

Acumatica's custom product editions, paired with Sphere's patented successful implementation and deployment methodology gets your team set up fast, effectively and comprehensively—with the features that will actually make an impact to your day-to-day operations.

Our cloud ERP experts have a vast experience working with top business management systems and can provide full support with integrating Acumatica into your business; improving your efficiency and customizing the installation to your team's specific needs.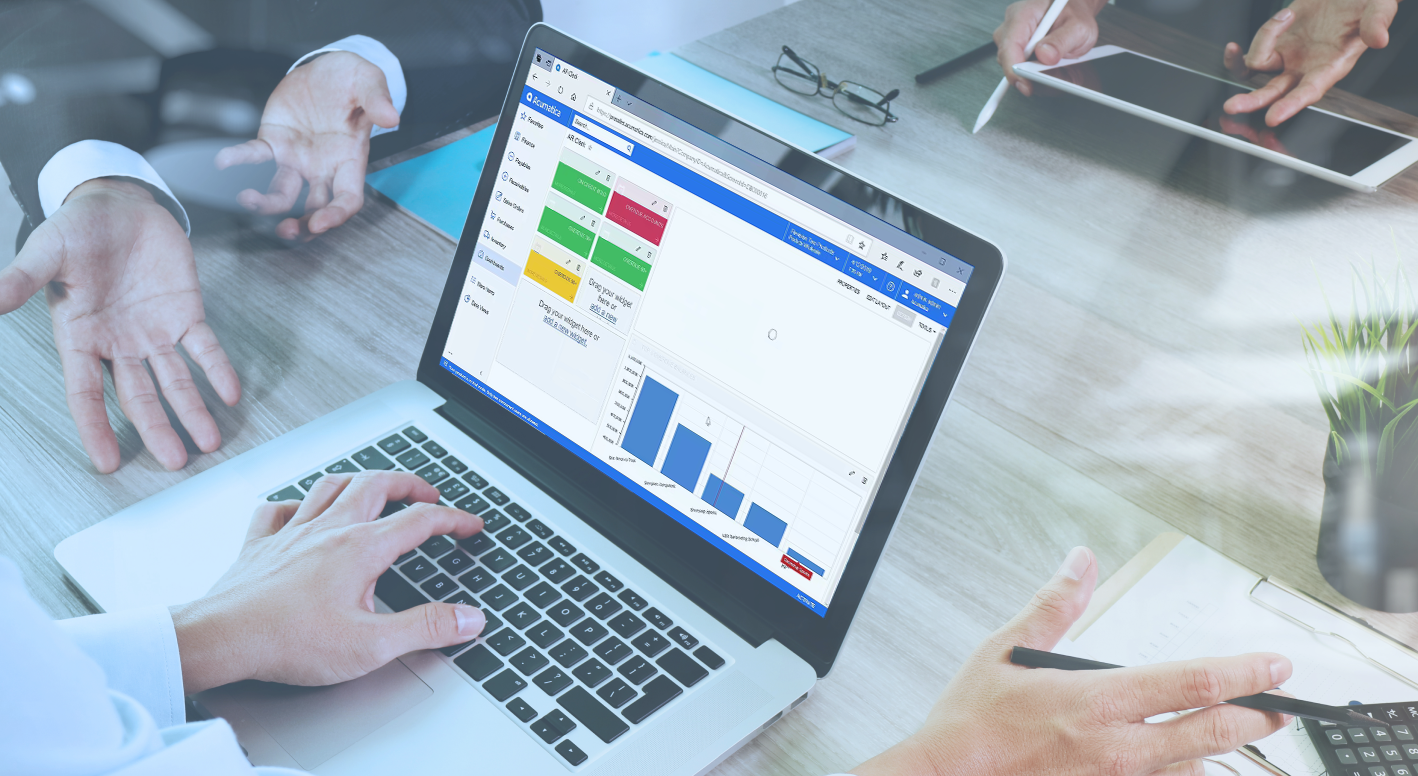 Acumatica vs NetSuite:
An Alternate Assessment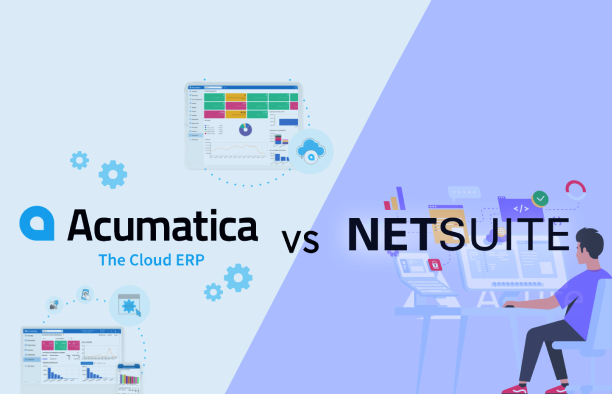 Acumatica vs NetSuite: An Alternate Assessment
Both Acumatica and NetSuite are established, vetted, and leading ERP systems, and there are many published comparisons of the two. However, most of those focus on the functional comparisons between the two. While this whitepaper considers some functional differences, it focuses on other aspects to consider when choosing which of the two is best for your organization.
Get an overview of both Acumatica and NetSuite, learn how to implement an ERP system successfully, customize, take advantage of the partner network and much more.
Our Director of Enterprise Applications, Jeb Buddecke, provides an in-depth assessment of both ERP platforms in this whitepaper. Download now to read the expert review!
Choose Your Implementation Model
With over 15 years of software development experience, Sphere is a certified Acumatica partner that is a cut above the rest. We have a long track record of successful client engagements with many of the world's top companies.
Starting from one of our success-proven deployment models, we then work with your team  to pick and customize a project plan that fits your organization's team, budget, requirements and more.
An S-Tier (Sphere Tier) Team for every project:
A personal client-success partner as your one point of contact.
A team of full-time, senior software developers, vetted by our team and yours.
Auxiliary support from Acumatica implementation knowledge experts; sourced from Sphere and Acumatica.
Client-Led Implementation
Already have your own team? Allow us to assist! Our experts conduct discovery and provide guidance throughout the implementation.
Quick-Start Implementation
Looking to get something up quick? Our mid-range, streamlined implementation creates a fast project timeline and task workflow. Works well for startups and small businesses with simple requirements.
Full Implementation
Need the max value possible of Acumatica? Our full-service implementation is as comprehensive as it gets. Includes discovery, project management, data conversion, integrations, training and more.
Custom Acumatica Product Editions
Say no to having millions of features that you don't actually use! Starting from an industry-specific Acumatica product edition, we work with our clients to ensure that each module is built exactly to match their organization's current operations and workflows.
Acumatica's construction, retail-commerce, manufacturing, distribution and general business editions come with their own set of curated features. Sphere's experts then further integrate these features to your specific software stack and development environments.
Manufacturing


The manufacturing edition focuses on key features in the industry such as production management, manufacturing estimating, advanced planning/scheduling and more.
Distribution


The distribution product edition functions as your company's CRM hub, including marketing automation, a customer self-service portal as well as PO and requisition management functions.
Retail and Commerce


The retail and commerce edition comes with its own point-of-sale function, and options to connect to widely used ecommerce platforms such as Shopify and BigCommerce.
Construction


The construction and service edition comes with core project/service management functions, retainage, cost codes and compliance features. Construction ProCore, ProEst and CFMA Benchmark integrations are also available.
General Business


The general business edition is an all-in-one solution, coming with a wide variety of out-of-the-box features. General ledger, cash/tax management, expense/time management, as well as advanced financial features such as GL, AP and more.
Acumatica. Expertly Delivered.
At Sphere, our dedicated team of developers and engineers utilize a multi-stage and comprehensive approach with any installation.
From simple "plug and play" installs to complex integrations, we guide our clients through every step of the deployment process to ensure a successful engagement. Every time.
Discovery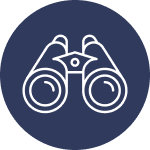 Starting with a deep-dive interview with the project stakeholders, Sphere will define specific requirements and create a scope of work with detailed delivery expectations.
Analyze and Design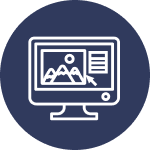 Our collaborative teams kick off the project to discuss workflows and timelines. A detailed solution design is also presented for approval by the client.
Configure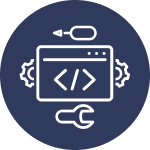 Our developers configure the application and develop the required customizations and integrations. Project team training also starts, along with functional testing of the early build.
Validation and Verification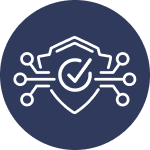 The pilot version of the software is completed. Final changes are introduced and the initial go-live prep work is conducted. Sphere will also train all expected users of the ERP.
Go Live and Optimization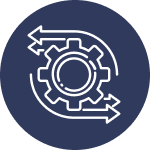 The project team launches the new ERP system and closes out all staging environments. The project enters into a support and debugging phase, along with any post-launch optimizations. Phase 2 deployments are started, as applicable.
Speak with our Acumatica Consulting Team
Fill out the contact form and one of our Client Partners will be in touch right away.
---
Our experienced consultants and engineers are ready to help you design your solution, scale your capabilities, eliminate technical bottlenecks, and accelerate speed to market.