Tame the chaos.
Get a handle on agile.
Agile consultants available today.
AGILE CONSULTING SERVICES
Sphere's Agile Consulting service enables clients to identify their most important initiatives or opportunities and to respond in a timely, effective, and sustainable way. We help companies change their outlook by using Agile principles to successfully respond to and learn from external events, to innovate technically and organizationally, and to plan and execute new courses of action. As Atlassian partners, we are also able to help you implement agile technologies.
Scale Agile
Sphere helps organizations of all sizes select and implement the scaling pattern/framework that is right for their specific environment.
Ready Talent
Sphere's experienced agile consultants, scrum masters, and analysts are ready today to assist you.
Agile Business
Let us teach your teams how to make agile a direct contributor to business value by maximizing utility and responsiveness to stakeholders.
Agile Execution
From readiness assessments to pilot projects, training or launching Agile teams, Sphere can help you promote sustainable Agile execution across the entire enterprise.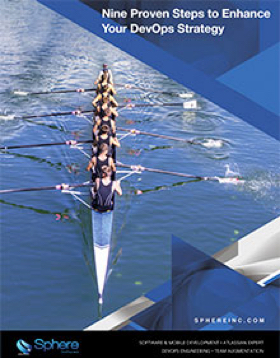 Improve your culture of collaboration
Nine Proven Steps To Enhance Your DevOps Strategy
Though the benefits of a DevOps strategy are apparent, implementing a DevOps strategy that truly delivers can be a challenge. DevOps is a holistic approach that requires a cohesive operating process and a culture of collaboration. Therefore, it's important to choose a DevOps consulting partner with a complete skill set, and a thorough understanding of the DevOps process.
Your Vision. Our Strategic Advice. Your Success.
Are you ready to accelerate success, shatter technology constraints, remove technical/staffing
bottlenecks, drive new revenue and mitigate the risk of growth?
As your business grows, you'll need a technology partner as flexible as you are. That's where we come in.
Sphere's engagement models are simple and adaptable – everything we do is designed to
accelerate your business and remove technical constraints and staffing bottlenecks.