Acumatica and monday.com Integration: Scaling the Power of Both Systems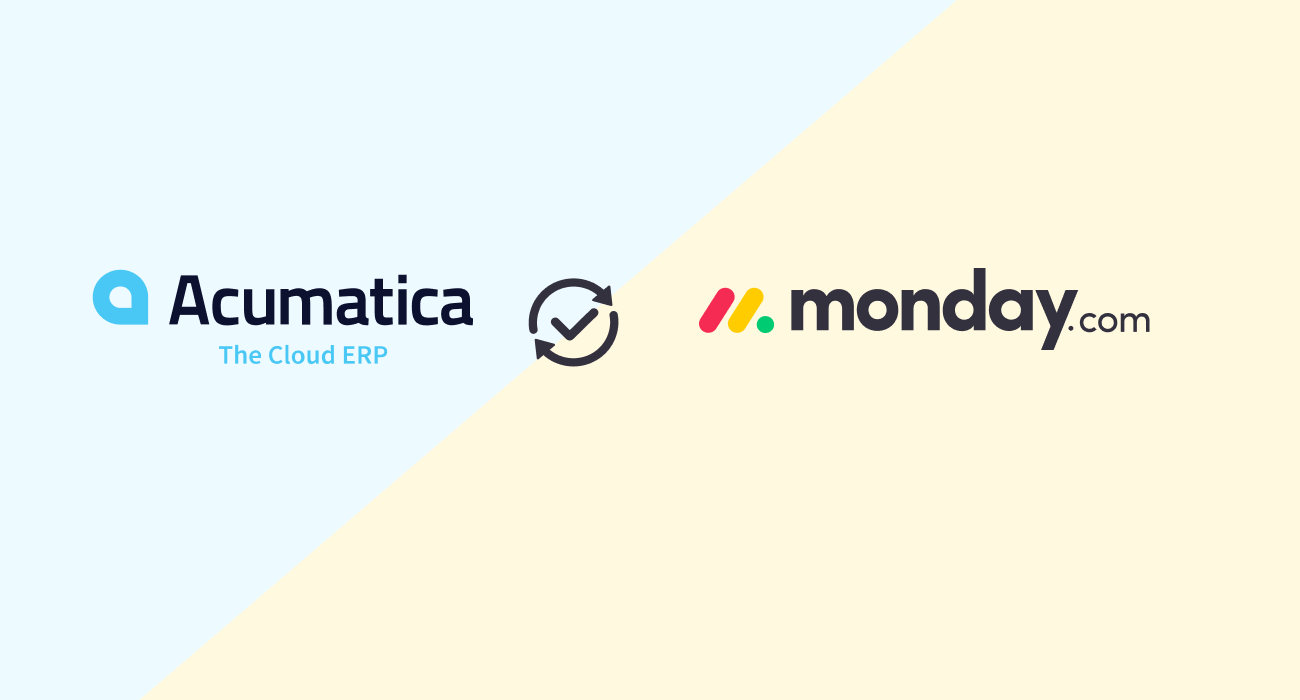 By Jeb Buddecke, Practice Leader, Director of Enterprise Applications at Sphere Partners
Acumatica and monday.com are two of the fastest growing, modern business management applications on the market today. Acumatica is a leading Cloud ERP used to manage financials, distribution, manufacturing, projects, and other back-office operations. 
monday.com is a cloud-based low-code Work OS platform that allows users to define and manage their own processes and workflows. It is used by various types of organizations and internal teams to manage processes, workflow, information flow, and communication.
Both applications are powerful, but they perform different tasks and are often used by different people in organizations. Sphere Partners has extensive experience with both applications and can help you make the most of both systems.
Benefits of Integration
The concept of integrating multiple software applications is nothing new. It has existed since shortly after the first enterprise applications were created. However, different types of systems now exist, and the benefits and methods of integration are much broader than in decades past. 
Basic benefits of integration range from preventing duplicate entry and errors to eliminating manual processes to having consistent information for everyone in the organization, regardless of what system they use to access it. As in the example of Acumatica and monday.com, it is common that users may not access both systems. However, it is beneficial for all users to see consistent and accurate information, without having to create it or maintain it in both systems. An example would be managing and viewing customer information. This is likely to be managed in the ERP, Acumatica. However, monday.com users probably need to see and use this information, too. It is not efficient or practical to manage the same information in multiple places, so an integration allows it to be shared. 
Integrating these two applications scales the benefits of both by preventing information silos within the organization, eliminating waste and errors associated with double entry, and enabling users to work with best of breed functionality offered by both systems.
There are many opportunities to integrate and automate these two systems, depending on the needs of your business. The figure below illustrates just some of the possible data integration points.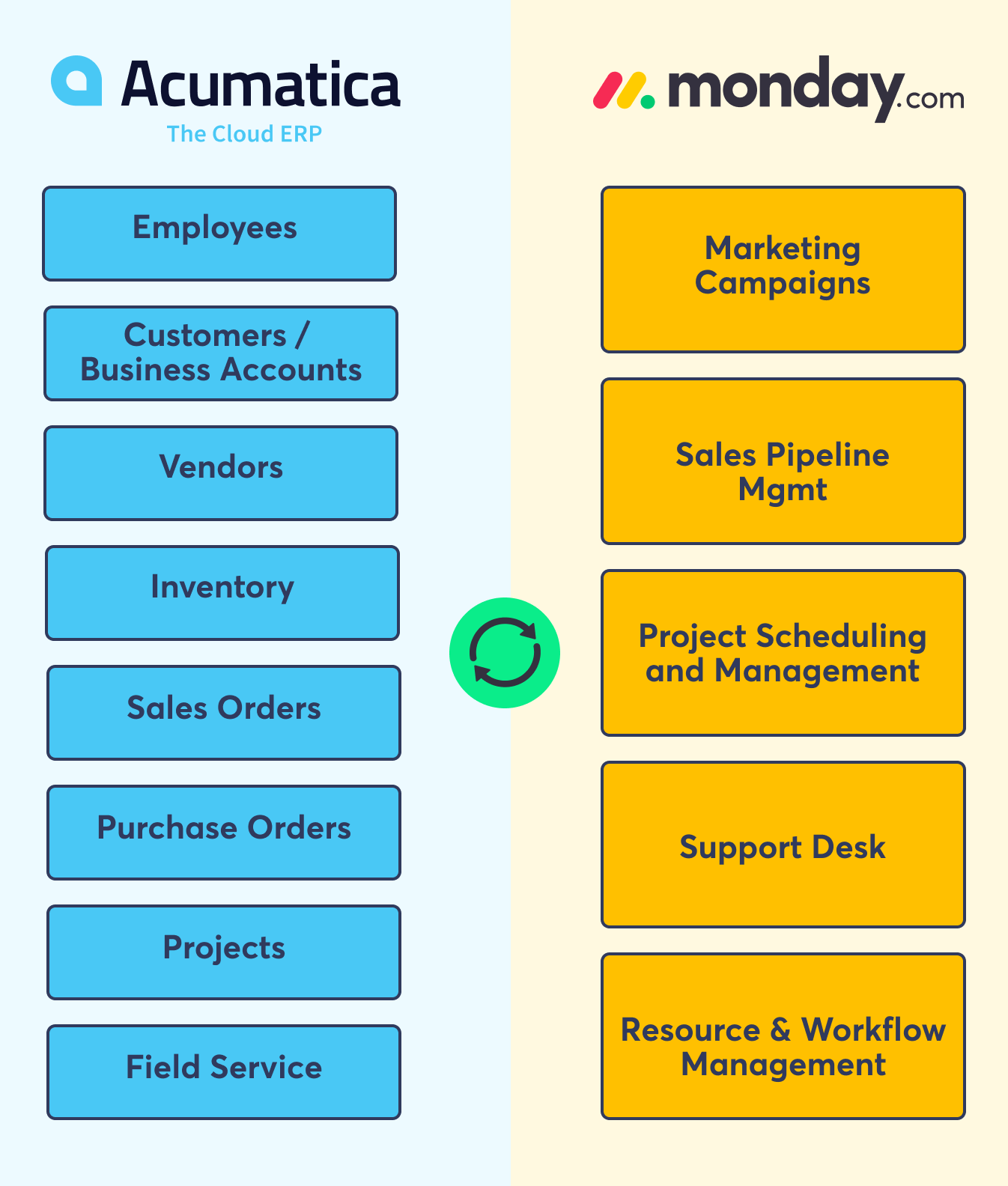 monday.com Marketing Campaigns – Use customer and prospect data that is maintained in Acumatica to communicate about new campaigns.
Sales Pipeline Management – Customer, Vendor, Inventory and Order information could be helpful in managing and fulfilling sales and keeping your customers informed of the status of their orders, shipments, and invoices.
Project Scheduling and Management – monday.com users can visualize and manage schedules, while supporting information, like inventory, employees, and project accounting can be managed in Acumatica.
Support Desk – Allow customer service to work on monday.com while pulling information about employees, customers, orders, service tickets and inventory from Acumatica. 
Resource Management – Manage resources – people, equipment, etc. – and workflow in monday.com using the employee, inventory, and project definitions from Acumatica.
Building and Maintaining Integrations
There are different ways to build and manage integrations between systems like Acumatica and monday.com. Both systems have modern, open APIs which allow information to flow in or out of the system. Integrations can range from highly manual processes that rely on imports and exports to highly specialized and automated ones that involve custom programming or integration platforms, like Tray.io or Celigo.
The right option depends on the skills of your organization, how quickly you need the integration, how often it is used, how you want to manage the application, the budget for building the integration and how you expect the integration to change over time. The simplest type of integration to create is an export-import integration. This involves exporting data from one system and importing it into another. This could be done manually by a user or via automation. (It is debatable if this is truly an integration, but we will consider it a simple form for this discussion.) This method can usually be designed and deployed quickly, but it takes the most effort each time it needs to process since a user usually must take action. It could be a good option if it is not performed frequently or there is a small budget for creating an integration.
If the integration is expected to be static or you have a strong technical staff in your organization, you may opt for a custom integration. That usually carries the highest initial cost, but the recurring cost may be very low. This is typically created by a developer and involves creating some kind of "wrapper" application that creates the API connection and gives users a way to execute it manually or schedule it for execution. Sometimes the enterprise application will have these tools built in and make this much simpler. 
Conversely, if your staff is less technical or you expect the integration to change, then using an integration platform might be better. That can have a higher recurring cost, but it offers a low code environment to make changes without needing to engage a developer with specific skills. With either option, the cost is likely to be relatively low in comparison to the cost of the applications themselves.
Sphere Can Help With Your Acumatica and monday.com Integration
Regardless of the type of integration that your organization needs to build and maintain, Sphere can help. We can discuss options with you, provide guidance and build integrations for you. Our experienced consultants and developers have the experience and skill to effectively integrate your systems to maximize efficiency.
Contact our team to learn more about our integration services.