6 Key Takeaways from Acumatica Summit 2023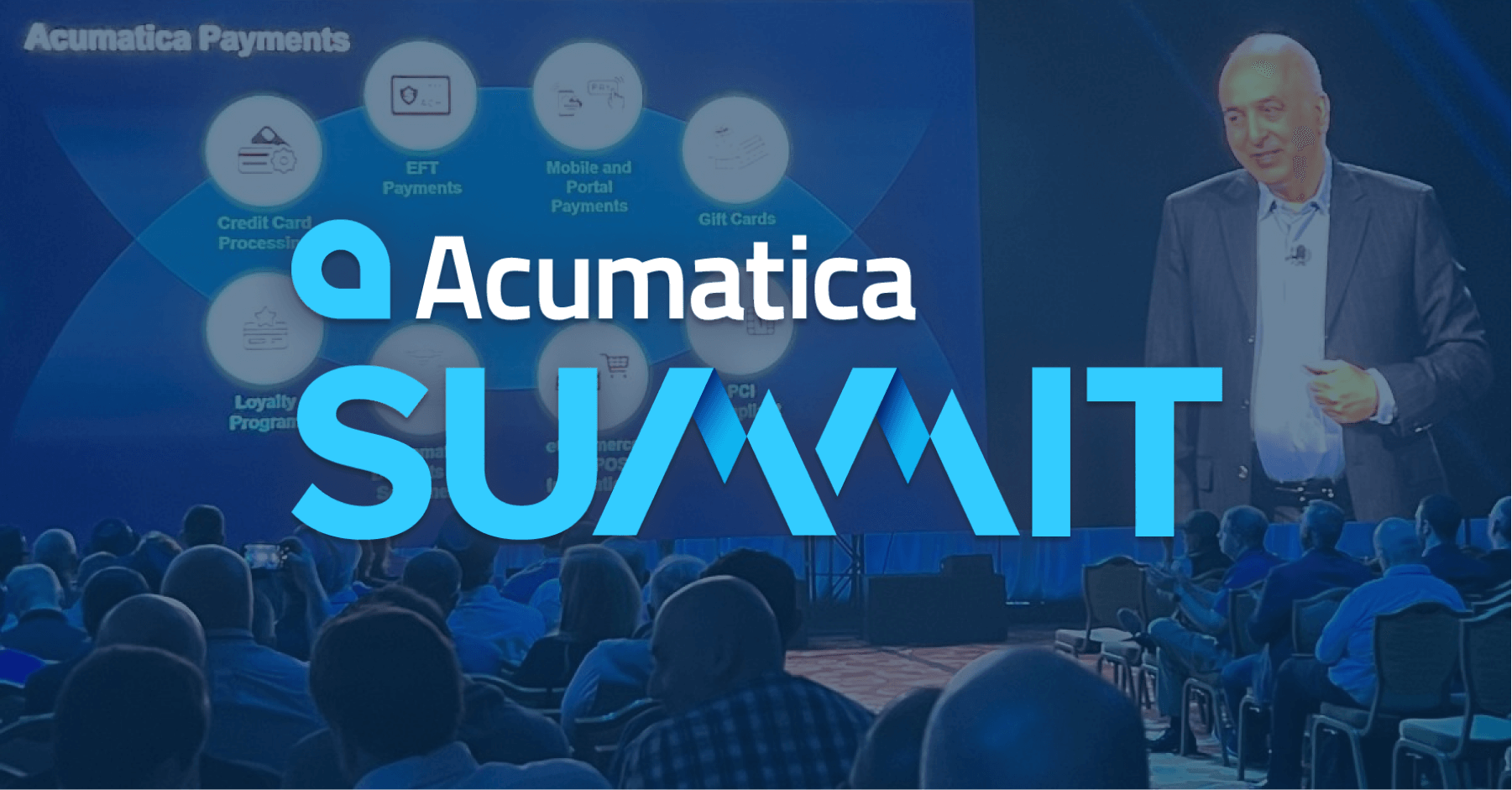 By Jeb Buddecke, Director of Enterprise Applications at Sphere Partners
The latest Acumatica Summit held on January 29 to February 3rd just ended—and I was privileged to take part in this grand event this year! The Summit is always a productive and inspiring event for everyone in the ecosystem. Customers, prospects, resellers, ISVs and Acumatica personnel join together to share ideas, successes and challenges and learn about what is upcoming. 
This year's event was no exception…but way bigger!
This type of event, the product and the culture are what make Acumatica the fastest growing Cloud ERP for small and mid-market clients in any industry. So without further ado, let's get to my top takeaways from Acumatica Summit 2023.
Acumatica's Community Continues to Grow Rapidly
Acumatica recently announced that there are now over 10,000 clients (up from 8k) over the past year. Their ongoing strategy of cultivating a strong sense of community—between publishers, VAR's, ISV's, customers and prospects—has been among their key differentiators against other competitors in the market and greatly enhances the usability/value of the full product to their clients.
Consistent Major Product Enhancements—Starting as Soon as Now
The lifeblood of any software is the support and updates that it should regularly get. And, in this, Acumatica is an industry leader. Starting from the 2023 R1 Release (with the beta available for users since February 2nd), Acumatica is releasing some key feature upgrades:
Industry focused enhancements (distribution, manufacturing, construction, retail commerce)

Added delegates feature to improve approval workflow

AP Automation improvements

Production order and MRP side panels

Better construction workflow and reports

Mixed orders for POS/counter sales (distribution)

Optional variants for matrix/template items

Acumatica working with digital agencies and multiple retailers to make enhancements related to omni-channel sales, i.e. making it easier to sell through different channels

Retail POS order management and processing via Shopify POS

Option to suppress tax calculations on invoices when invoice was previously calculated by e-commerce app
(By the way, if you have any questions about these new features—please reach me and our team here!)
System Flexibility and Usability is Acumatica's Key Focus
Acumatica wants their platform to be as flexible as possible. Through no code/low code changes and integrations with other widely adopted software, they are aiming to create an all-inclusive ecosystem that maximizes the benefit for their users. Upcoming products such as a Acumatica-native payment system (projected to be released later this year) to simplify payment processing is part of this effort.
Acumatica is Embracing AI and ML
With the rise of products such as ChatGPT, AI-powered learning has come back into the forefront of every technology company's mind. Acumatica is no different. By analyzing how Acumatica users are currently engaging with the product and considering how they might use AI/ML in the future, Acumatica is planning the next stages of their product roadmap and how to properly improve it for these next-gen technologies.
Education and Networking is the Summit's Goal and Creed
Acumatica has always valued education, and the recent Summit was the physical embodiment of this ethos. It is a great opportunity to learn about the product and ecosystem not only from Acumatica, but also from the people who engage with it everyday. Customers, prospects and resellers—you get a true sense of what it is like to work with Acumatica. 
Specifically, there are several opportunities that I, along with many others encountered during the show:
Create new partnerships – ISVs, vendors, and customers

Communicate with Acumatica personnel, including the leadership team. It says a lot that the leadership team is willing to talk with anyone and listen to their input. Connections made here are invaluable as you continue to interact with the product and community.

Meet potential resources (consultants, developers, PMs, partners)
Have any questions about these takeaways? Or if you are interested in what Acumatica has to offer, reach out and tell us about it here.