AI and HR – Disruption is Coming
AI and HR – Disruption is Coming
HR is widely regarded as one of those 'human' jobs that will be hard to replace with AI. It's similar to psychology and other domains that require a high level of EQ, communication skills, and profound personal touch. The common preconception is that human resourcesoperations are hard to augment with intelligent technology, let alone automate. Over the last half-decade, this line of logic has been challenged with data-driven approaches penetrating many of the modern HR practices.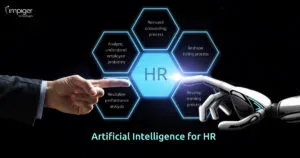 The cost of AI adoption is steadily on the decline, and the data science community is growing by the minute. With these two factors coming together, business leaders are embracing process automation and augmentation opportunities in the people operations realm. The emerging use cases are about eliminating the tedious and routine tasks, while HR managers are still there to handle the most crucial side of the job – human interaction.
HR Technology in the Field
Candidate Assessment
One of the significant disruptors in HR and specifically the talent acquisition domain is HireVue's artificial intelligence platform. It identifies and analyzes the tone, word choice, body language, question context, and answers of candidates who have recorded video interviews to determine whether or not they're a good fit — both culturally and professionally. This results in a quantifiable score they use to compare all the candidates, ensuring HireVue makes the optimal unbiased hiring decisions. HireVue's platform is made possible thanks to AI and machine learning that adapts over time and is precise enough to create reliable scores.
Another player in the HR assessment game, Pymetrics, uses AI-based gamified assessment to screen candidates. This platform can result in improvements in hiring success of 30% or more. It does this while eliminating many of the time-wasting challenges that are inherent to the recruitment process faced by nearly all companies. AI in recruitment is an already established practice and will continue to grow as the underlying technology evolves and improves.
Employee Development:
Learning and development is a relatively young HR practice, and yet the global L&D industry is worth over $200 million. With an incredible growth rate and seemingly straightforward background, most learning professionals see more than half of the L&D opportunities wasted. These practices might be forgotten, inappropriately applied, or simply spent on people that don't want or need it.
Companies like Zoomi use AI to detect learning patterns and behaviors to determine, understand, and cater to each user's unique learning style. The company calls this 'Learner DNA' which is then applied to make critical decisions. These decisions, in turn, save companies time, money, and resources. Zoomi provides actionable eLearning data to companies by employing more than 250 proprietary algorithms. It's part of the larger trend of ensuring employees are engaged and provided opportunities to grow, as their success is integral to the ultimate customer experience.
Human Resources Management:
AI can look at organizational network data like email traffic, survey results and sentiment of comments to identify areas of stress, ethical dilemmas, and various forms of toxicity within a culture. Armed with these insights, HR managers identify red flags faster and can act preventively rather than reactively.
Butterfly, an employee intelligence and management coaching software, offers this capability. The company's designed to transform managers at all levels into exceptional leaders and make the company culture more transparent. It modernizes organizations through the analysis of regular employee feedback. The platform uses real-time team feedback to deliver customized leadership training and content to managers on an ongoing basis.
Culture Maintenance.
People and their mental health are the foundation of your company and they better be happy if management aims to achieve some lofty goals. To remedy some ongoing cultural issues, AI is used to identify behaviors that cause poor work performance and disrupt the balance of your working environment. A new breed of intelligent chatbots can alleviate these situations by providing interactions in an intelligent and easy-going manner while alerting the HR department of any cases that go beyond the red line and need to be addressed in person.
Challenges and outlook
AI is still in the early stages of its lifecycle and needs a lot of attention to reach its full potential. Artificial intelligence in human resources requires a double effort. The algorithms learn from the past. If the past employee behavior is toxic, the trend might continue to persist – ironically with the help of the company's ultra-expensive AI tool.
Another risk is data exposure and misuse. In the age of GDPR, companies must exercise caution about the information they are collecting and the corresponding permissions they may – or may not have. The major barriers to AI application in HR lie in the very nature of the domain – the human element.
AI tools can optimize the candidate selection and placement process, helping HR find the right candidates for the job. HR technology is built to supplement and augment HR processes, with smart machines taking care of the routine tasks. HR professionals, however, remain the best solution to equitably solving issues in human interaction – at least for the time being.