Katerina Korotkova Joins Sphere as Director of Product Strategy and Portfolio Management, GM of E-Mobility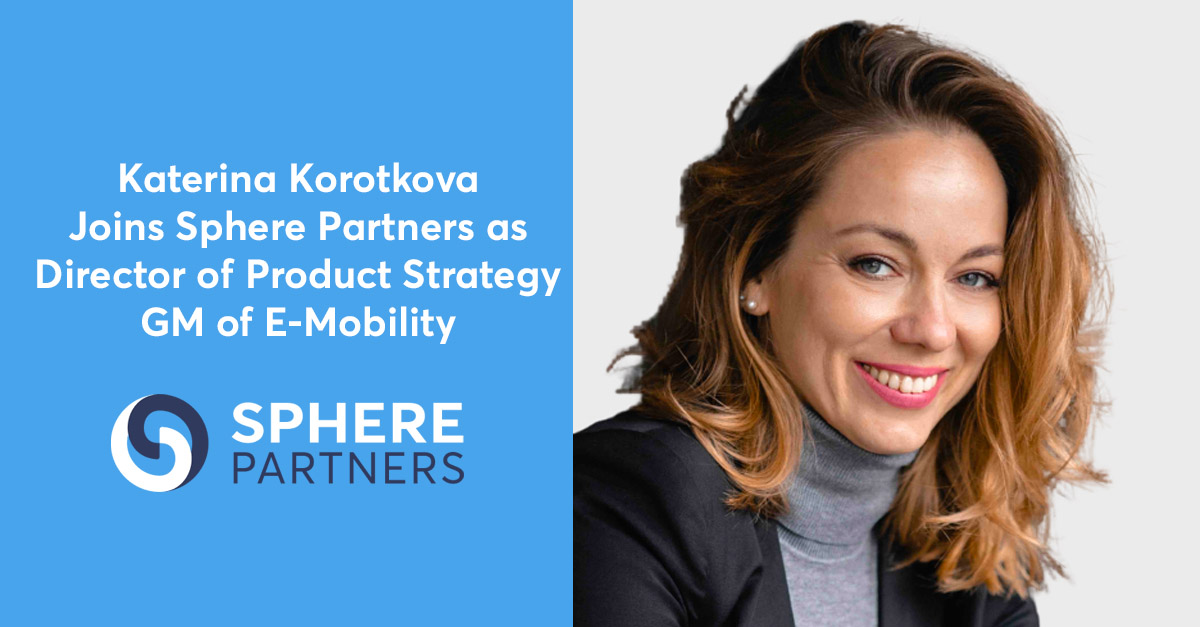 Experienced Business Executive Katerina Korotkova Joins Sphere Partners to Drive Product Strategy and Portfolio Management
LONDON—24 July 2023—Sphere Partners, a technology consulting firm and a leading provider of innovative solutions in the E-Mobility sector, is delighted to announce the appointment of Katerina Korotkova as the Director of Product Strategy and Portfolio Management and General Manager for E-Mobility. 
Katerina brings a wealth of experience from her previous engagements at BP, Shell, Johnson & Johnson, and Visa, where she held various product, commercial strategy, and project leadership roles. She will contribute to the growth of Sphere Partners' E-Mobility business and the overall development of the product and services portfolio.
Katerina's background encompasses early-stage startups, technology consulting, and global organizations, giving her a unique perspective on product and business strategies. 
With over 18 years of experience, Katerina has worked internationally throughout her career, focusing on innovation and product growth, and she provides a global perspective on various industries – energy, financial services, and healthcare. 
As the Director of Product Strategy and Portfolio Management, Katerina will also play a pivotal role in shaping the future of Sphere Partners' E-Mobility division. 
"Sphere's ambition is to be at the forefront of innovation and emerging technology solutions, helping our clients to succeed in the most efficient and cost-effective ways. I am excited to join the team, also leading the company's practice growth in the emerging EV economy," – says Katerina Korotkova.  "This is an inspiring time to contribute to E-mobility development, transforming the energy sector and paving the path for a more sustainable future. I aim to leverage my previous experiences, capturing growth opportunities and delivering value for our clients, through tech innovation, in all our portfolio solutions."
Sphere's CEO, Leon Ginsburg, states, "Katerina is coming to Sphere with a wealth of business and industry experience as well as strong strategic and leadership skills. I am thrilled to welcome her to the company. Her track record in product management and innovation consulting, together with diverse perspectives, will be instrumental in further shaping our portfolio's solutions, driving our commitment to sustainable solutions in the E-Mobility sector. Together, with a strong client-centric focus, we will grow our portfolio of solutions and EV Practice to the next level of success." 
About Sphere Partners
Sphere Partners is a strategic technological partner for global enterprises and a leading provider of innovative solutions in the E-Mobility sector.  With a strong focus on sustainability, Sphere Partners aims to revolutionize how enterprises and end customers engage with electric transportation.  Sphere's commitment to technological advancements and customer-centric solutions has positioned them as a trusted strategic partner in the industry since 2005.
Media Relations
For media inquiries, please contact:
Email: ekatz@sphereinc.com