Sphere Partners Strengthens Data and AI Footprint with New Practice Lead: Sundip Gorai Joins the Team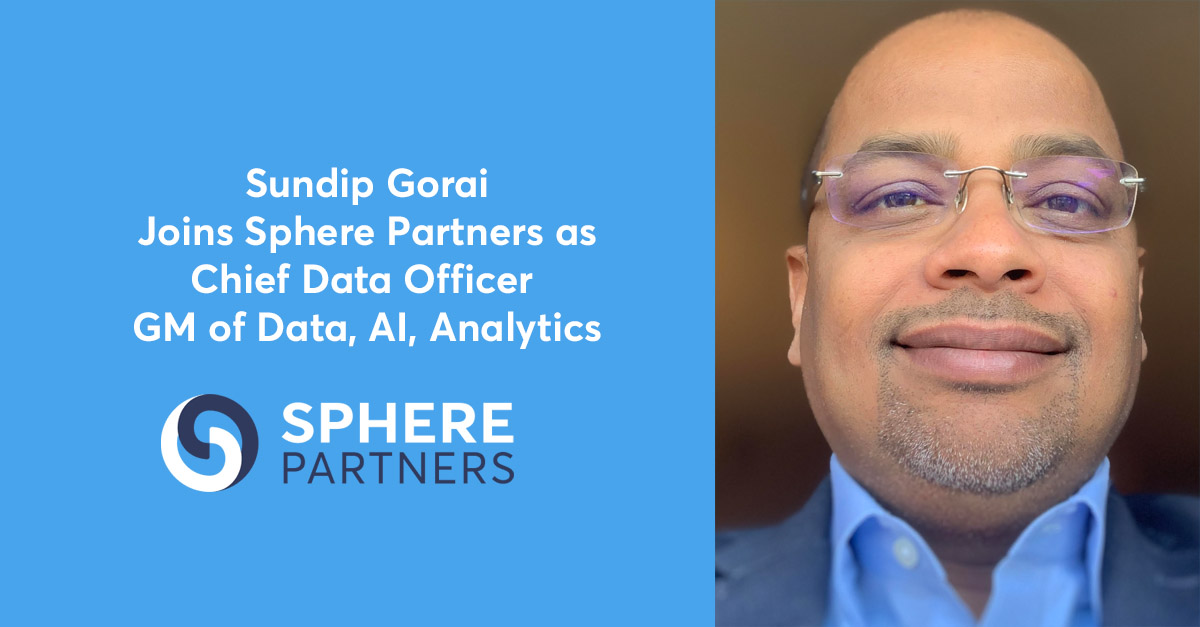 Miami, Fl—July 31 2023—Sphere Partners, a leading technology solutions provider, is excited to announce the appointment of Sundip Gorai as Data, AI, & Analytics Practice and Chief Data Officer. 
With over two decades of experience in Data, AI, Analytics (Machine Learning/Data Science), Data Engineering, Low-Code-No-Code, and other Digital Technologies space, Sundip brings a wealth of knowledge and expertise to his new role.
Sundip has successfully built Data and Analytics practices for renowned organizations such as Coforge, L&T Infotech (Mindtree), Genpact, Hexaware, IBM, and Oracle throughout his career. His extensive experience architecting and developing business solutions in the data and analytics domain spans over 14 industries. Sundip's passion lies in leveraging data and analytics to drive business growth, making him a valuable addition to Sphere Partners.
At Sphere, Sundip will oversee the growth and strategic development of the Data, AI, & Analytics Practice. His deep technical understanding and business acumen will enable him to drive innovation and deliver cutting-edge solutions that harness the power of data and artificial intelligence. 
Sundip Gorai's appointment reinforces Sphere Partners' commitment to providing cutting-edge technology solutions and strengthens its position as a leader in the industry. With Sundip's leadership and expertise, Sphere Partners is well-positioned to drive digital transformation, unlock the power of data, and help clients achieve their business objectives. As Chief Data Officer, Sundip will also play a crucial role in shaping Sphere Partners' data-driven initiatives, ensuring the highest data governance and integrity standards.
"We are thrilled to welcome Sundip Gorai to the Sphere Partners team," said Leon Ginsburg, CEO of Sphere Partners. "His extensive experience and proven track record in the data, AI, and analytics domain make him a valuable addition to our organization. Sundip's expertise will be pivotal in driving our Data, AI, & Analytics Practice forward, delivering exceptional value to our clients. We look forward to his leadership and contributions as we continue to innovate and shape the future of data-driven solutions."
Sundip Gorai expressed his enthusiasm about joining Sphere Partners, stating, "I am very excited to take on this role at Sphere Partners. I am passionate about leveraging data and artificial intelligence to drive business growth and create meaningful impact. Sphere Partners' commitment to delivering innovative, cutting-edge data solutions aligns with my vision. I am excited to collaborate with the talented team here to unlock the full potential of data and accelerate digital transformation for our clients."
About Sphere Partners:
Sphere Partners is a leading technology solutions provider, empowering organizations worldwide with innovative and scalable solutions. 
With a strong focus on data, AI, and analytics, Sphere Partners helps clients unlock the full potential of their data and drive digital transformation. Sphere Partners helps clients stay ahead in a rapidly evolving digital landscape through strategic partnerships, deep industry expertise, and cutting-edge technology capabilities.
Committed to sustainability, Sphere Partners aims to revolutionize how enterprises and end customers engage with emerging technologies. At Sphere, we are on a mission to make our world a better place for all people around us through wiser strategies and the delivery of cutting-edge technologies. 
Media Relations
For media inquiries, please contact:
Email: ekatz@sphereinc.com