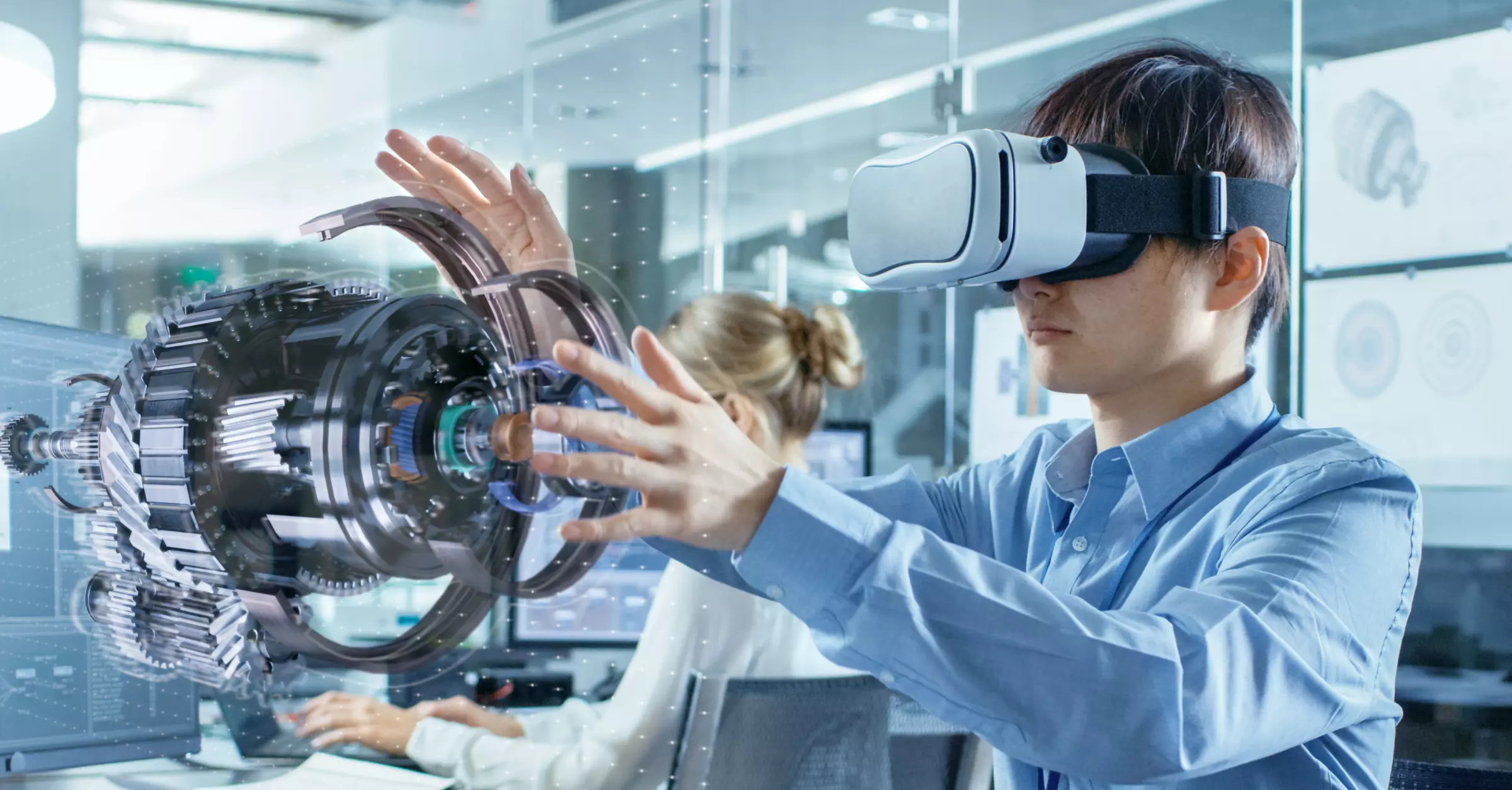 The Changing Role of Augmented Reality in the Enterprise
Augmented reality is a term that refers to any interactive experience that a person can have with a real-life environment. In this experience, objects in the real world are changed or enhanced via computer-generated information specifically intended for an altered perception.
Augmented reality isn't limited to just vision; it can work for different senses and sometimes multiple senses, namely auditory (hearing), haptic (touch), olfactory (smell), and somatosensory (sensation, e.g. pain, heat, pressure).
A brief history of augmented reality
One of the most famous examples of AR technology is the mobile app Pokemon Go (2016) which, after it was released, became a sensation that was quite literally everywhere. The first person who dabbled with augmented reality was Morton Hellig, a cinematographer who in 1957 invented the Sensorama. It delivered smell, visuals, sound, and vibrations to the viewer. While not controlled by a computer, it's still considered AR because it added data to the real world that didn't exist naturally.
Since then, there have been multiple augmented reality projects that have accomplished feats of improved human productivity (Louis Rosenberg, ASAF Armstrong's Research Lab, 1992) and amazing outdoor mobile AR games (ARQuake, Bruce Thomas, 2000). But augmented reality software development has also gone in other incredibly interesting directions, and that will be the focus of this article.
Most interesting use cases of augmented reality
Augmented reality is good for more than just games. It has a surprising applicability to basically every industry, from industrial manufacturing to retail.
For a few years before the pandemic, augmented reality was not yet the top of technological focus and popularity. The onset of the COVID-19 pandemic saw a sharp rise in popularity of digital collaboration tools; multi-person video calls and chats, team messaging apps, and more. Alongside that rise in popularity, augmented reality has been pushed to the front of people's minds again. AR technologies gained traction because they enable people to 'see' others digitally, interact with objects, visualize data, and collaborate to design, study, or create.
With that being said, these are some of the most interesting ways that augmented reality is being used currently.
Retail
The retail industry has witnessed a shift toward creating a virtual product catalog. While working in 2D, photographers would have to shoot products and worry about lighting, background, colors, and more. While working in 3D however, there's the added need for the product to not only be photorealistic from every angle, but accurate to what it's like in real life too. There must also be software and hardware that displays the products without glitching, pausing, or freezing.
The tools for scanning, the databases, and even the necessary AR software for doing just this are ready and available, although not for every single type of good or service sold. An example of a great fit for this type of technology would be a car. Already 3D modelled and assembled in 3D prior to being actually created, transitioning to AR-enhanced aspects of production would save time and effort – not to mention it would be easier than most think.
The beauty industry is also using augmented reality to further customer satisfaction. In partnership with Perfect Corp., L'Oréal decided to merge their makeup collections into the YouCam Makeup app. Testing makeup is essential to modern-day shoppers, and this move came at the right time as the pandemic has meant that there are pretty much no testers in stores. Augmented reality solutions mean that customers can still see what certain makeup would look like on them, a move which has helped save L'Oréal some of their potential loss in customers.
The well-known Swedish home brand IKEA has also made use of augmented reality, in a simple but clever way. With their app, people looking to buy a certain piece of furniture are able to, using their device's camera, see what the furniture would look like in the place they want it in their home.
Similarly, Dulux has an app called the Dulux Visualizer App that helps its potential users see what a certain color of paint would look like in their home.
Training and learning
In terms of augmented reality software development for tactical improvement, the United States Army is using augmented reality in the form of what is basically an eyepiece that aids soldiers by locating their positions precisely as well as those of others – be they friend or foe. The tech is named TAR, or Tactical Augmented Reality. It will, in the future, replace night-vision goggles as well as the handheld GPS system that soldiers use.
AR tech can also significantly boost medical training in terms of not only depth, but effectiveness. Think of the 3D holograms of the human body seen in some sci-fi movies – with these, students can gain experience and knowledge without a human cadaver. This means that students don't have a limit on the number of times that they can practice certain dissections, processes, or revisions of knowledge since their 'patients' aren't alive (or even real).
Even at a school stage, children benefit greatly from augmented reality for a number of reasons. Because teachers already have a lot on their plates, they aren't often able to cater to all of the different learning styles of their students and keep all of them engaged. Augmented reality can help with both of these problems. School children can see, hear, and even feel what they're learning about. They can learn more effectively, bridge language and ability gaps, and retain more information.
Everyday life
While television news has been making use of special effects to add a little something to their broadcasts for decades now, augmented reality is set to take that even further. The Weather Channel has been using AR to display severe weather on set; they've displayed a 3-dimensional tornado, the height of hurricanes and floods, and even drove a virtual car through the studio to illustrate to viewers how drivers can lose control of their vehicles on icy or snowy roads.
Tourists can have virtual tours of places that they can't get to for any reason, be it the weather, an unforeseen traffic jam, or a global pandemic. A great example of a museum that's done this is The Smithsonian. This ease of access offers an unprecedented option for differently-abled people as well, as if they weren't normally able to access a museum or other place of interest, they would be able to with augmented reality solutions such as these available to them.
Such solutions also apply for children who can't go for field trips and could feel left out. Students with special needs or who can't afford to go on school trips can make use of augmented reality solutions such as these to finally access the fun and knowledge that other children are able to.
Also of use to tourists when they are travelling are AR solutions such as the Google Translate Instant Camera. It allows signs and writing in a different language to be translated, saving a lot of tourists from what could potentially be much grief and trouble. This can help people who are trying to learn different languages as well.
Picking what to eat or what color to choose at a nail salon can even be aided by augmented reality solutions, because with an app on a device, customers can see what all of their options look like before they make a choice. In the case of food, they can even smell what they could be getting!
Around 40% of IVs don't get a vein on their first try, and because of this, AccuVein, a medical company, invented an AR scanner that projects over a person's skin and can show doctors and nurses where different veins, arteries, valves, and bifurcations are in their patients' bodies.
Those who are classified as legally blind but actually still have some level of vision can use augmented reality solutions to see better. VA-ST has software that can learn to recognise 3-dimensional objects and go on to identify them. Used with their SmartSpecs, those who are partially sighted can enjoy enhanced vision.
Other industries
There are also augmented reality solutions that help with maintenance and repair. AR can provide real-time troubleshooting, potential fixes, and help to point out troublesome areas. This can save mechanics and repairmen a lot of time and from a significant amount of danger, as if there's something wrong that they don't spot, they could injure themselves. Additionally, if they are somehow unable to come up with a solution, AR can help to offer suggestions.
Architects and civil engineers can use augmented reality to see how their designs might look in real life, allowing them to ascertain what works, what doesn't, and what changes need to be made. Beyond this, the technology also allows them to make these changes on the spot, saving time, paper, and effort. They can even use AR to plan entire city layouts, a task that wouldn't be as easy to visualize even on the powerful computers of today.
In terms of logistics, AR-enabled glasses can help delivery vehicle drivers pick the shortest or fastest routes. Aside from the delivery section of logistics however, the logistics company DHL has in fact rolled out an augmented reality solution that aims to help create a hands-free picking environment as it helps staff to find the products they need fast, and sort them too.
Promoting causes and raising awareness
BBC Earth created an interactive AR experience in a metro stop in Oslo, Norway. The installation showcased a number of beautiful wildlife that suddenly appeared as if they were really there in the streets of Oslo, but this was really just done with a large display screen and an HD camera. To viewers, it seemed like penguins were looking right at them. This was very effective in raising awareness of the threat that global warming had to such wonderful animals. In this vein, it can be used very effectively for virtually any cause and to raise awareness.
Conclusion
Augmented reality solutions address a surprisingly high amount of problems across many industries and facets of life. They can bridge gaps in knowledge, streamline processes, and stretch the boundaries of human imagination and learning. Augmented reality software development has made leaps and bounds in terms of what's achievable, and there's an augmented reality solution for almost anything now.
For a little more on AR, VR, and spatial computing, click here. For your own augmented reality solutions, get in touch with us here at Sphere Partners.
Sphere Partners is a strategic technology partner offering consulting services, cutting-edge software development, expert engineering teams on-demand and enterprise platform implementations such as monday.com, Netsuite, Salesforce, Google Cloud and Snowflake for companies seeking to transform in a demanding digital world.
With a global team of business and technology consultants, solution creators, and engineers, Sphere delivers strategy, design, and software development to help organizations solve their technology challenges and improve productivity, enhance the user experience, and maximize growth.