Ecommerce Webinar on Future Proofing of Ecommerce Marketplace
[et_pb_section fb_built="1″ _builder_version="3.29.3″ background_color_gradient_direction="91deg" background_image="https://www.sphereinc.com/wp-content/uploads/2020/06/LinkedIn_SphereVirtualFireside_June10_600x322px.jpg" background_position="center_left" background_repeat="repeat-x" background_blend="multiply" min_height="603px" custom_margin="0px||0px|||" custom_padding="0px||0px|" z_index_tablet="500″ hover_enabled="0″ background_last_edited="on|desktop" fb_built="1″ bb_built="1″ _i="0″ _address="0″][et_pb_row column_structure="1_2,1_2″ make_equal="on" _builder_version="3.29.3″ width="67.6%" custom_margin="0px|auto|0px|73px||" custom_padding="0px||0px|" z_index_tablet="500″ _i="0″ _address="0.0″][et_pb_column type="1_2″ _builder_version="3.25″ background_color="#1e73be" background_color_gradient_direction="125deg" custom_padding="|||" _i="0″ _address="0.0.0″ custom_padding__hover="|||"][et_pb_divider show_divider="off" admin_label="Divider – ignore" _builder_version="3.22.7″ z_index_tablet="500″ _i="0″ _address="0.0.0.0″] [/et_pb_divider][/et_pb_column][et_pb_column type="1_2″ _builder_version="3.25″ background_position="center_right" custom_padding="||30px|" _i="1″ _address="0.0.1″ custom_padding__hover="|||"][/et_pb_column][/et_pb_row][/et_pb_section][et_pb_section fb_built="1″ _builder_version="3.22.7″ custom_margin="0px|||" custom_padding="0px|||" z_index_tablet="500″ fb_built="1″ bb_built="1″ _i="1″ _address="1″][et_pb_row _builder_version="3.25″ background_size="initial" background_position="top_left" background_repeat="repeat" _i="0″ _address="1.0″][et_pb_column type="4_4″ _builder_version="3.25″ custom_padding="|||" _i="0″ _address="1.0.0″ custom_padding__hover="|||"][et_pb_text admin_label="Title and Intro paragraph – does not always need to be edited" _builder_version="3.29.3″ text_text_color="#3d3d3d" text_font_size="17px" header_2_text_align="left" header_2_text_color="#1e73be" header_3_text_align="left" header_3_text_color="#c42663″ header_3_font_size="25px" custom_padding="5px|||" z_index_tablet="500″ inline_fonts="Alegreya Sans,Actor" _i="0″ _address="1.0.0.0″]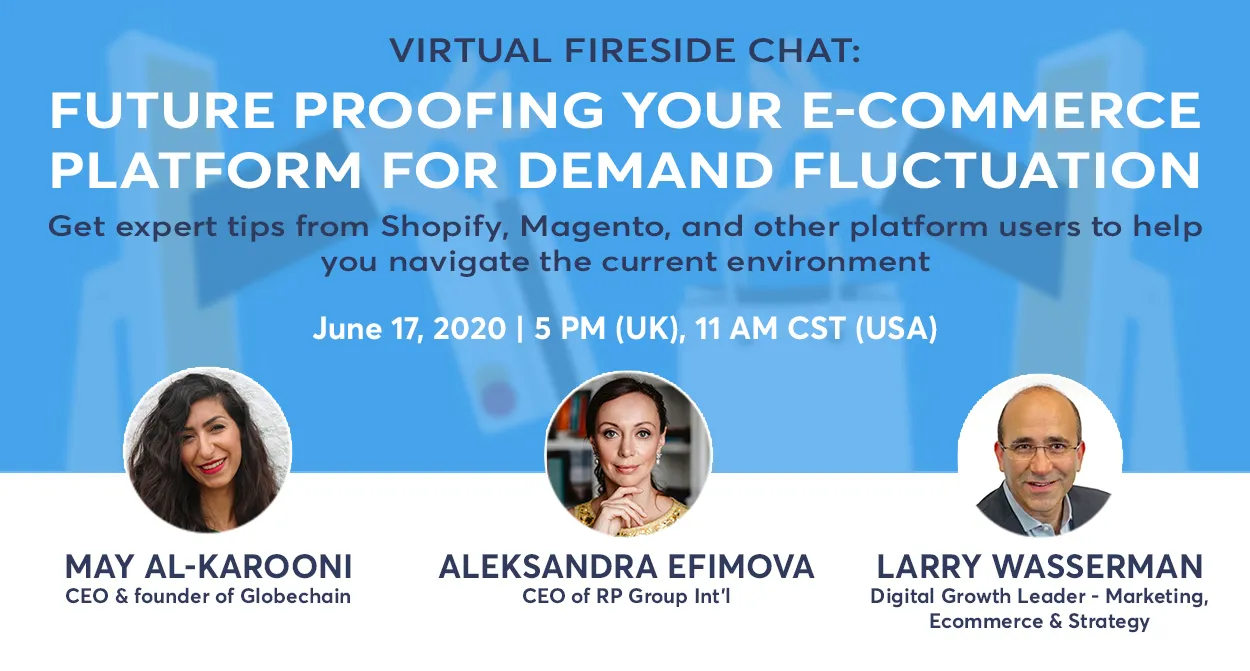 Our excitement is building for Future Proofing Your Ecommerce Business for Accelerated Online Demand
The speakers have met for prep sessions, and they are an elite group with a lot of contrast in perspective.
We have completed all the plans, there will be some brief polls offered in the chat to help the speakers understand the mindset and position of the audience.
Isabel Londono, Sphere's Head of Strategic Growth will moderate and is excited to have such an engaging panel. Registration has exploded the last week, and we think this is going to be an excellent event to catch up on the resumption and extension of your 2020/2021 planning. Hope to see you there!
WHERE – Zoom Webinar – Register Here and we will send you a Zoom link
WHEN – 11 AM CST – 5 PM BST Click here for your time zone
[/et_pb_text][et_pb_button button_url="#reserveseat1017″ button_text="RESERVE YOUR SEAT" button_alignment="center" admin_label="Register Now – Needs anchor text to form" _builder_version="3.29.3″ custom_button="on" button_text_size="23″ button_text_color="#ffffff" button_bg_color="#2673a6″ button_border_width="3″ button_border_color="#050505″ button_font="|800|||||||" animation_style="zoom" z_index_tablet="500″ _i="1″ _address="1.0.0.1″ button_bg_enable_color="on"] [/et_pb_button][/et_pb_column][/et_pb_row][et_pb_row _builder_version="3.25″ background_size="initial" background_position="top_left" background_repeat="repeat" _i="1″ _address="1.1″][et_pb_column type="4_4″ _builder_version="3.25″ custom_padding="|||" _i="0″ _address="1.1.0″ custom_padding__hover="|||"][/et_pb_column][/et_pb_row][/et_pb_section][et_pb_section fb_built="1″ _builder_version="3.22.7″ background_color="#1e73be" z_index_tablet="500″ fb_built="1″ bb_built="1″ _i="2″ _address="2″][et_pb_row _builder_version="3.25″ background_size="initial" background_position="top_left" background_repeat="repeat" _i="0″ _address="2.0″][et_pb_column type="4_4″ _builder_version="3.25″ custom_padding="|||" _i="0″ _address="2.0.0″ custom_padding__hover="|||"][et_pb_text _builder_version="3.29.3″ header_font="Poiret One||||||||" header_text_align="center" header_text_color="#ffffff" header_font_size="35px" z_index_tablet="500″ _i="0″ _address="2.0.0.0″]
Reserve Your Seat
[/et_pb_text][et_pb_divider color="#e69e2e" _builder_version="3.22.7″ z_index_tablet="500″ _i="1″ _address="2.0.0.1″] [/et_pb_divider][/et_pb_column][/et_pb_row][et_pb_row column_structure="1_4,3_4″ _builder_version="3.29.3″ background_size="initial" background_position="top_left" background_repeat="repeat" _i="1″ _address="2.1″][et_pb_column type="1_4″ _builder_version="3.25″ custom_padding="|||" _i="0″ _address="2.1.0″ custom_padding__hover="|||"][et_pb_text admin_label="Title Reserve Your Seat – edit anchor text in text here" _builder_version="3.29.3″ text_font_size="17px" header_font="Poiret One|300|||||||" header_text_align="left" header_text_color="#ffffff" header_font_size="35px" background_layout="dark" custom_padding="|0px||||" z_index_tablet="500″ inline_fonts="Actor" _i="0″ _address="2.1.0.0″]
DATE:
June 17, 2020
TIME:
5 PM – 6 PM British Summer Time
or 
11 AM – 12 PM Central US Time
LOCATION: Zoom Webinar

[/et_pb_text][/et_pb_column][et_pb_column type="3_4″ _builder_version="3.25″ custom_padding="|||" _i="1″ _address="2.1.1″ custom_padding__hover="|||"][et_pb_text admin_label="Text" _builder_version="3.29.3″ z_index_tablet="500″ _i="0″ _address="2.1.1.0″][hubspot type=form portal=5257433 id=484be2d3-dda6-4bc8-9acb-efa28ccd1471]
[/et_pb_text][/et_pb_column][/et_pb_row][/et_pb_section]