Custom AI Solution Improves Inventory Management with for Fortune 500 Glass Fiber Manufacturer
The client company is a Global Glass Fiber Manufacturer consistently committed to developing, refining, and improving its glassmaking technology and introducing new products. The company has production facilities in Japan, Korea, China, Malaysia, UK, Netherlands, Germany, and the US to meet global needs. Our Data Services Consultant began collaborating with this manufacturer in the US by providing an onsite assessment and generating an analytics roadmap to identify critical challenges and set priorities for initiatives that would benefit from using Artificial Intelligence technology.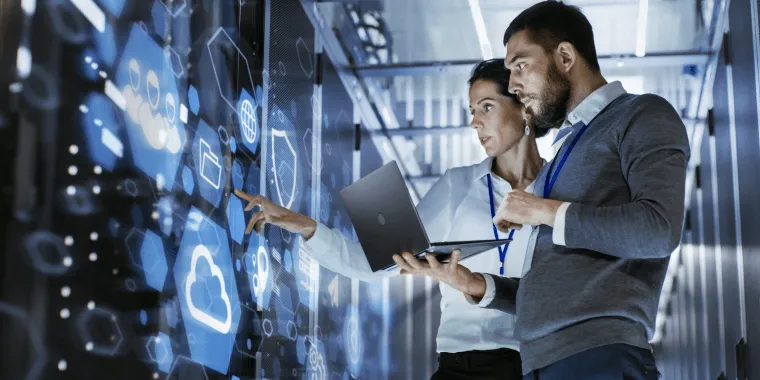 The Challenge
Finding a way for process improvement
Since 2017, the firm's US operation faced a significant change to its digital transformation strategy as they were acquired and needed to conform to the Corporate strategy.   They sought out external expertise to advise them on ways to use technology and IoT data to allow production leads to track and adjust the process as needed. They were looking for a proactive real-time approach to utilize their manufacturing and quality data to correct their manufacturing process deficiencies when a problem was detected. To implement this AI-based approach, our data consultant had to identify and analyze all the possible data sources during the manufacturing process and design a centralized data extraction, transformation, and load (ETL) process across the entire manufacturing system nodes.     
Discovery for Proof of Concept (PoC)
Our consultant met with the company's stakeholders during the discovery phase to identify specific pain points regarding quality control issues for the product as well as inventory management challenges that affected the product generation process. He recommended looking at AI as a possible solution to find quick ways to improve the process and product quality. It was decided to concentrate the PoC on a single furnace at a specific location to create a data framework that would be followed and expanded throughout the organization during subsequent phases.
How It Was Solved
After identifying some key pain point indicators within their current process, Azure AI was recommended for creating a Data Lake to consolidate all source data. This included thousands of IoT readings per day as well as information from the manufacturing ERP system, thus providing gigabytes of information to be analyzed. The solution would take advantage of Databricks' ability to run rolling data analyses, allowing the engineers to do multiple comparative analytics by segmenting the best continuous seven days of production runs.  This analysis would provide the best seven days of settings and conditions for a clean run, made possible by leveraging years of data to create a predictive model. The model allowed the engineers to identify trends before failures and create red flag (issue) reports.    
The PoC took five weeks to complete with 1 add-on week to review and adjust for the initial findings.    
Below are examples of the  products the data consultant created:
ETL:  Customized process to load the Data Lake and configuration of analytics platform (Data Factory, Databricks, Azure ML)

Historical Data Analysis: Tracking dashboards for all four main areas of the process: Material collection, Furnace melt, Transport material, Brushing, and Rolling.

Actionable Reporting: Visualized data consolidated and normalized from relevant data sources    
Implementing the model from the PoC
Once the PoC reports were analyzed, it showed that engineers could resolve and adjust the process in 3-4 days instead of 4-6 weeks. Getting the solution production-ready would take 4 weeks including one for User Acceptance Testing (UAT). Utilizing these dashboards and AI reports allowed engineers to solve several potential problems in just one day.
The PoC had direct and immediate improvement in the following areas:
Quality control

Product process error reporting:  We implemented custom dashboards using Power BI (also available on a mobile platform) to allow engineers to check and track processes in all stages, allowing engineers to communicate the impact of changing product runs to satisfy inventory demands without proper planning.

Material tracking and quality issues by vendors

Weather impact on production runs
The Results
Implementing the model in all additional locations 
The solution built included cloud AI and analytics reporting, which gave the client the ability to improve processes by gaining insights into their data and utilizing it to be proactive in their manufacturing business.  Our data consultant was asked to implement the solution in additional locations and create a consolidated corporate view of all data from all locations.
After thorough planning, improved dashboards that came together seamlessly were implemented. The company leveraged the recommendations, which resulted in instant improvements to the product quality control and IT processes. They also gained the ability to view and analyze data to make key decisions regarding production adjustments or inventory management. The next phase will incorporate weather-related data and inventory demand history data to improve the model, even more, to predict and adjust how the product runs and plan inventory demands.
The ROI of this PoC was calculated to be around $750K savings per furnace, with additional future improvements projected stemming from economies of scale and future inclusion of weather-related production factors. The results across nine furnaces translated into saving over $3.8 MM in product loss and calculated into a possible $3 MM additional revenue for the following year based on process improvements. 
Knowledge Transfer
Our consultant provided a set of short training demos for the BI dashboards and held personalized sessions with key engineers to run the analytics model and the IT team to control the loading of data into the Data Lake in the cloud.  Additionally, a sophisticated corporate dashboard was created to allow management to make better decisions about managing inventory demand and improving their product manufacturing process.
In summary, our consultant's recommendations were able to prove that by focusing on the right data and business challenges, the AI solution can provide an incredible return of investment and improve the way the business utilizes data to make key decisions.