Boris Korenfeld is the vice president of R&D for Gett, an on-demand mobility solutions provider and the global leader in corporate ground travel. He recently participated in a TechDebate in Tel Aviv, Israel, where the panel discussed the merits of various organizational approaches for technology R&D teams. Fortunately, Boris and I had the opportunity to connect to discuss the topic in greater detail. 
Sphere Software hosts a series of TechDebates around the world. For more information or to register, visit www.techdebate.org. Also, we're always on the lookout for debaters—if you have something to say, let us know at https://techdebates.sphereinc.com/debater-registration.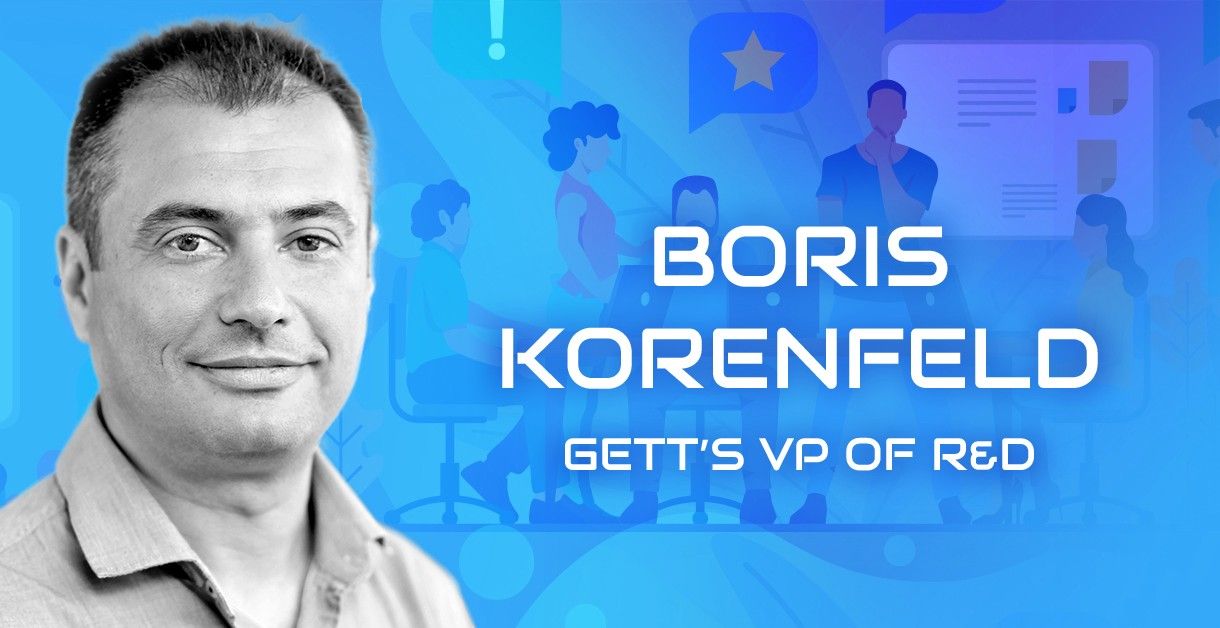 You've been in your role as Gett's VP of R&D for about three and a half years. How did you approach the task of restructuring the R&D team?
BORIS: When I began my role at Gett, we were still a start-up with about 70 people in the R&D department. To accomplish our objectives, we needed to nearly triple the R&D team to include about 200 technology team members. This much larger team required different organization and different methodologies. 
We spent time figuring out exactly what we wanted to achieve from an R&D perspective and how to align these objectives with business goals. Most importantly, I needed to transform R&D so that the team would be sustainable, well organized, and able to accomplish its work much faster than in the past. 
We defined five goals that ultimately allowed us to achieve our objectives:
Provide the shortest time-to-market within the mobility sector to maintain competitiveness.

Increase velocity dramatically—deliver more output using the same number of people by creating efficiency and productivity.

Full-stack domains with the end-to-end responsibility (from design to production) cycles.

Maintain flexibility within the technology organization, including the flexibility of resource allocation.

Assure that our organizational structure supports meaningful career path development, allowing us to retain talent.
Could you explain what you mean by full-stack domain with end-to-end responsibility?
BORIS: When I arrived at Gett, the technology team was organized by technology. There was a team for mobile, a team for front-end development, back-end development, web development, and so forth. We decided that Gett would be more strongly positioned for long-term success if we organized technology teams by domains, rather than by technology. A domain is simply a group with a clear agenda and clear delivery expectations, such as technology features or other initiatives, based on business objectives. 
Each domain is led by a director and includes a few teams that combine to form a full-stack technology team that supports the domain. Our goal is that 80 percent of the features of each domain will not cross their given domain. 
Essentially, each domain is a start-up organization with capabilities to deliver at least 80 percent of the roadmap independently. The lack of dependency across domains allows us to move much faster. 
Each domain is an end-to-end technology team. This team researches, designs, develops, tests, deploys, and monitors their product once it is in production. There is no other organization responsible for stability and performance of the system in production, making developers responsible for these product aspects. If they deliver buggy code, they have to spend considerable time on nights and weekends dealing with it because they are responsible for the product even after it has been deployed.
Even quality assurance people are now included among the domain teams they support; they are not a separate organization.
What is the most important factor allowing Gett to maintain and grow its competitive advantage in the market?
BORIS: I know it sounds cliché, but it's really our people. Gett's structure and approach to business demand that we have a highly capable team. In fact, ongoing talent acquisition is one of the highest priorities of the company, and we are always striving to improve the process.
Given our full-stack team structure, we need people who are versatile and highly capable. As a technology company operating within an industry that moves quickly, we must ensure that we are progressing constantly. We only hire people who are mentally flexible and are dedicated to continual learning—this is the only way Gett will keep competing with the very strong companies in our business.
How does Gett reward innovation?
BORIS: Innovation is simply part of Gett's DNA, and it's very much rewarded. We have a start-up atmosphere and encourage people to innovate in functionality, productivity, data usage, AI, etc.. I strongly believe in day to day innovation, being bold, and being daring. We built a breakthrough solution in our new platform and AI domain because we innovated and took risks. Even though I strongly believe in day-to-day innovation, we do have a "hack-a-thon" from time to time that always delivers some interesting ideas. 
How do you maintain and strengthen the culture within the R&D teams?
BORIS: Defining and articulating our values has been very useful to Gett. The four value pillars that are the cornerstones of our culture and our talent acquisition efforts are as follows:
Be PRO

(professional)— team members or potential hires must have the required knowledge, but they also must always strive to learn something new. Our people attend meetups, read, take online courses, etc.

Get things done

—being PRO is not enough – you have to deliver.

Be humble

—Ego is a no go. Even if you're brilliant, if you have a big ego – it's not a fit for our culture.

Be positive

—we have complex products and are in a complex business that is constantly changing. We must face challenges with a smile.
Maintaining a strong culture is difficult enough among your direct employees, but how do you maintain your culture when you incorporate contract team members, from Sphere Software for example?
BORIS: We strive to not differentiate. The Sphere team members are treated as Getters. For instance, we have a quarterly recognition event, and we recognize Sphere people who did outstanding work, just as we recognize Getters. The only difference is that the Sphere team works remotely, so we give them tasks that are more self-contained and require less interaction with Gett employees who are based either at our headquarters in Tel Aviv or our site in Moscow. Contract workers pass the same interview process, and we screen them for culture just like we screen Gett employees.
Our company, Sphere Software (https://sphereinc.com), is a sponsor and organizer of Techdebates.org and also finds great value in these follow-up discussions with industry experts. Sphere is a technology consulting and solutions company. Everything we do is designed to accelerate your business, remove