17 features that make Acumatica a leading cloud ERP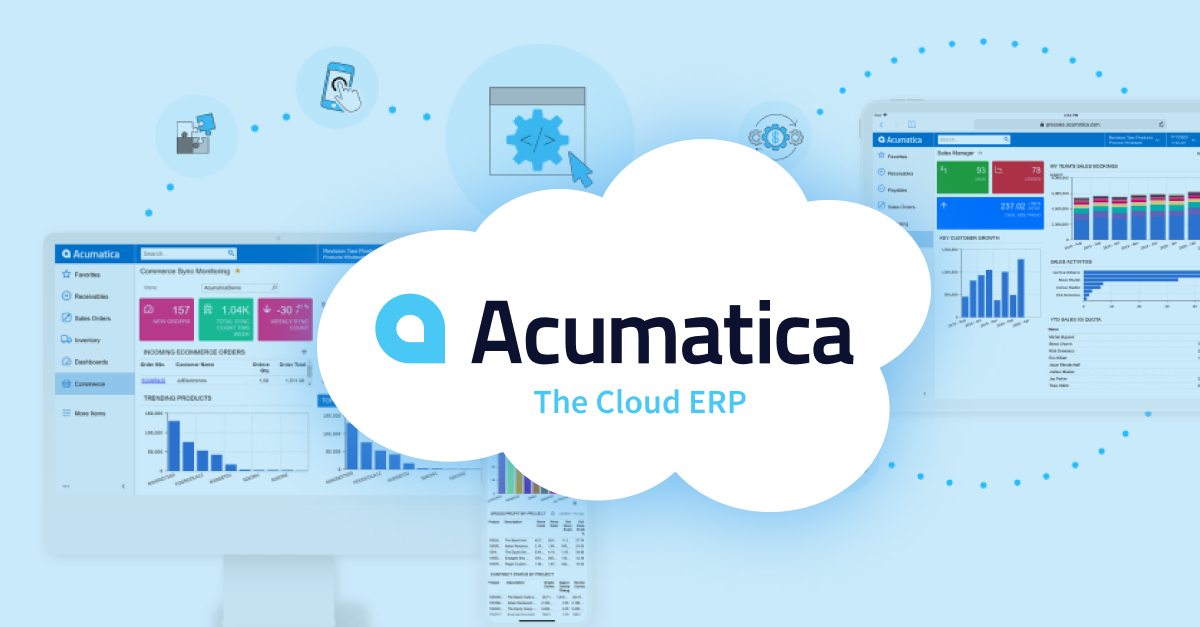 Acumatica is born in the cloud, built to meet the ever-evolving needs of midmarket companies and their customers. This software automates major business processes at a much lower cost than traditional solutions. With Acumatica Cloud ERP, you can turn a software service into a server license that lasts forever. This lets you focus on your business decisions instead of committing to a specific technology. 
Here are the top reasons why you should consider Acumatica as your next cloud ERP solution.
Integrated cloud-based software management
Acumatica ERP is software made for cloud computing. It has the power, usability, performance, and speed of regular client-server applications. You only pay for the server license of Acumatica Cloud ERP, which lets everyone in the organization be a part of your success. You can also add non-business partners and casual users.
Since Acumatica Cloud ERP is cloud-based software, companies do not have to buy or maintain any IT equipment.
So, businesses can be sure that their data is always safe, secure, and easily accessible.
Support for CRM and centralized document management
Acumatica ERP has different modules that work together to meet your business needs. Below are some of the Acumatica cloud ERP modules: 
Accounting

: Acumatica accounting module provides the following services:

General Ledger

Accounts Payable

Accounts Receivable

Cash Management

Employee Portal modules

Financials

: The Acumatica Finance module is based on the Generally Accepted Accounting Principles.

Customer Relationship Management (CRM):

The Acumatica CRM module provides a streamlined CRM experience that optimizes your client interaction activities.

Construction

: The Acumatica Construction module is a versatile and robust cloud ERP system. It is designed to benefit everyone in the construction industry, from general contractors to land developers.

Distribution

: The Acumatica Distribution module allows you to manage the following from anywhere:

Sales orders

Inventory Management

Purchasing and Fulfilment

Manufacturing

: The Acumatica Manufacturing module provides state-of-the-art cloud ERP for manufacturers. 

Payroll

: The Acumatica Payroll module manages everything from employee pay to tax document management. 

Customer Service and Field Services

: The Acumatica Field Service module allows you to schedule the right people at the right time for any field work. This includes multi-dimensional reporting, and single source of truth reports.

Ecommerce

: The Acumatica Commerce module enables the development of an all-inclusive e-commerce and omnichannel technology stack.
Business intelligence that works 
Acumatica cloud ERP has many different business intelligence tools that can be used to create dashboards, inquiries, reports, and more. 
Integrated document management
Acumatica ERP is cloud software that ensures centralized management of documents. This feature ensures documents are accessed quickly without violating the organization's security policies.
Tools for customizing and building
There are tools in Acumatica cloud ERP used for customizations, including low code/no code modification capabilities, a web SDK, and fully documented APIs. The Acumatica ERP customizations are technically integrated so that each application core is isolated to prevent negative impact while updating the application.
LAN or computing on the cloud
Acumatica ERP software is easy to set up on the company's local or web server, depending on your needs. The ERP can also be used as a software service through Microsoft's Azure cloud platform. Additionally, you can install Acumatica on a virtual server—a server that is entirely dedicated to your business—or in a load-balanced environment.
Regarding cybersecurity, Acumatica cloud ERP is made to meet the needs of banks, hospitals, and government agencies. So, Acumatica has a complete set of cybersecurity features, such as access control, encrypting data, and processing by server.
Being cloud-based, you can access Acumatica from anywhere with internet access. The software is mobile-friendly and can be accessed through laptops, smartphones, and tablets.
Some solutions have policies where adding a new user incurs additional fees. Furthermore, some applications charge a fee for different levels of user accessibility. However, Acumatica cloud ERP has no per-user fees, so there is no need to modify the plan if the organization grows or downscales.
Acumatica ERP software comes integrated with a data backup plan and backup access services. It can  quickly restore data from the backup in case of an emergency.
Most ERP software solutions make their software highly complex and challenging to use. However, Acumatica understands the value of simplicity. The Acumatica ERP dashboard is simple, making the implementation process less complicated.
The Acumatica Cloud ERP is also customizable according to the people or departmental needs. This customization enables users to see, monitor, and alter information only relevant to them.
Finding the right implementation partner
With so many options, let us assist you in finding the Acumatica configuration that best meets your business needs and capturing a comprehensive view of your siloed operational data. We can support you with any module: from finance, distribution, manufacturing, project accounting, payroll, and customer management. 
Our team can help you manage your fixed assets, deferred revenue, and multi-company accounting with extended ERP functionality and create the software stack that provides the highest return on your technology investments.
We can assist you with integrating your Acumatica deployment with any other application to create the technology stack that maximizes your ROI. We will create a comprehensive software workflow tailored to your specific requirements in construction, manufacturing, professional services, non-profit, or any other industry your company operates in. With an all-inclusive cloud application suite that bridges the gap between all parts of your organization, we will ensure that your business runs smoothly from start to finish.
Ready to start your Acumatica project? Contact us today and let's get started!