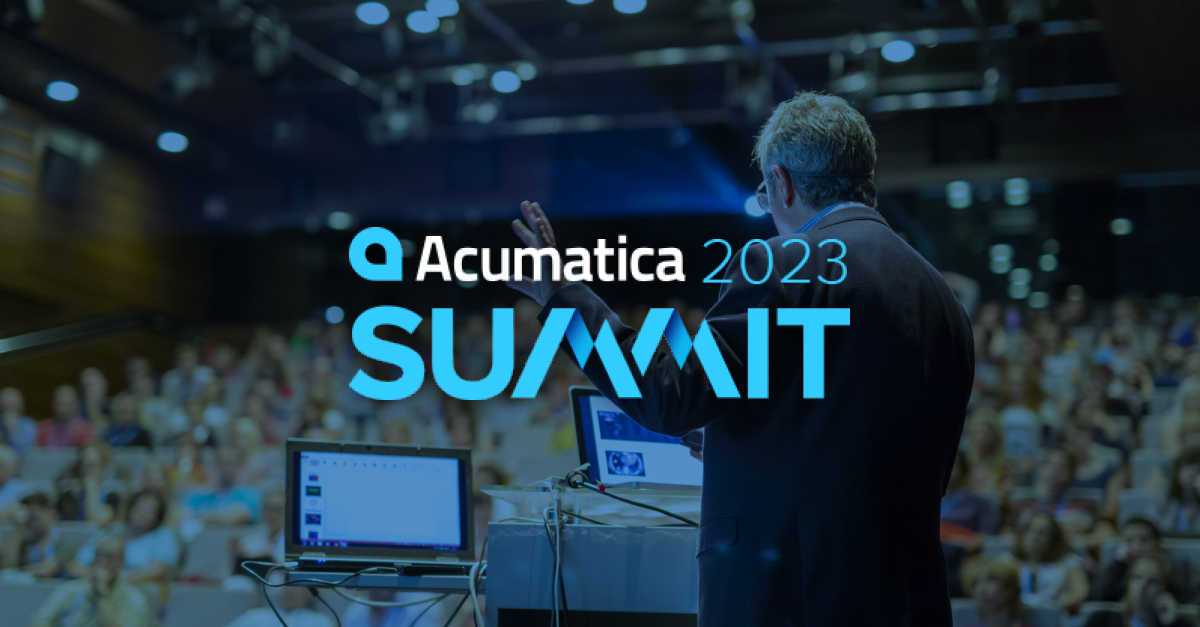 Attending Acumatica Summit in January is the Best Technology Investment You Can Make in 2023
By Jeb Buddecke, Practice Leader, Director of Enterprise Applications at Sphere Partners
Acumatica is the fastest-growing cloud ERP 6 years in a row and is loved by users and industry analysts. Built as a cloud-native application, it was launched in 2008 and offers financial management, distribution, manufacturing, construction, payroll, WMS, mobile, customer management, project accounting, and other modular functionality with specialized editions for small and mid-sized companies in many industries.
The annual Acumatica Summit is the seminal event for customers, partners, and industry analysts in the Acumatica ecosystem. It is packed with motivating keynote presentations, engaging networking opportunities, and a broad array of informative sessions including product news, demos, and roadmaps.
The 2023 Acumatica Summit will take place January 29th to February 3rd at Wynn, the stunning five-star modern luxury resort in the heart of Las Vegas! 
The six-day event is divided into two parts: Summit and Training. However, you don't need to spend a week to gain the benefits. Many people attend for as little as 48 hours and see tremendous value.
The Summit portion lasts from Sunday through Tuesday and includes presentations, a trade show, networking events and various information sessions about the current product and future roadmap. The Training portion is optional, lasts Wednesday through Friday, and provides detailed training on all subject matter related to the product.
Why attend Acumatica Summit 2023
With Wynn Las Vegas hosting Acumatica Summit 2023 again this year, Acumatica will continue with sustainability efforts to make the environmental footprint of the summit experience "Zero-Waste". With combined efforts from both Wynn Las Vegas and Acumatica, the previous Acumatica Summit 2022 diverted 98% of event waste from the landfill within the operational control.
This event is great for prospects, customers, and partners. Acumatica has identified the following themes for the Summit this year.
Collaborate

 – share new ideas, past successes, and business best practices

Innovate

 – learn about exciting new high-productivity features, industry-leading mobile apps, multi-cloud integrations, and more

Accelerate

 – increase your knowledge, your effectiveness, and your business growth
Our Acumatica experts at Sphere Partners have compiled their reasons why they believe various types of attendees should join.
Meet other customers

– Some similar events are just for partners, but Acumatica Summit is great for

customers

. You can meet other users, expand your network, and share ideas on how to make Acumatica work better for you. 

Learn More about the Ecosystem

– Acumatica is an entire ecosystem, not just an enterprise application. There are partners, ISVs, communities, marketplaces, etc. As a prospect, this is a great way to learn more about your potential investment in Acumatica. For everyone else, it is an opportunity to learn more about everything related to the product and meet others.

Meet partners and Acumatica staff

– This is a unique opportunity to meet partners and Acumatica staff all at one time to learn and interact about how to improve the application and the community. 

Find additional solutions to solve issues and extend Acumatica

– The tradeshow always showcases many products – new and established – that can be used to derive more value from your Acumatica environment. There are solutions for tax management, reporting, WMS, AP automation, eCommerce, integration platforms, and much more.

Future of Acumatica

– Learn about what will be available in Acumatica in the future. The 2023 R1 release will be previewed, but there will also be discussions of specific future enhancements and the general direction of the product and company.

THE WYNN!!

– Experiencing the

Wynn Las Vegas

is reason enough for attending. The facility and accommodations are incredible. (We know you can't go just to see the place, but it is really nice!!)
Contact us to learn more about Acumatica or about attending the Acumatica Summit. Potential sponsorships are available for existing clients and interested prospects.