AWS vs. Azure Cloud Services: 2023 & Beyond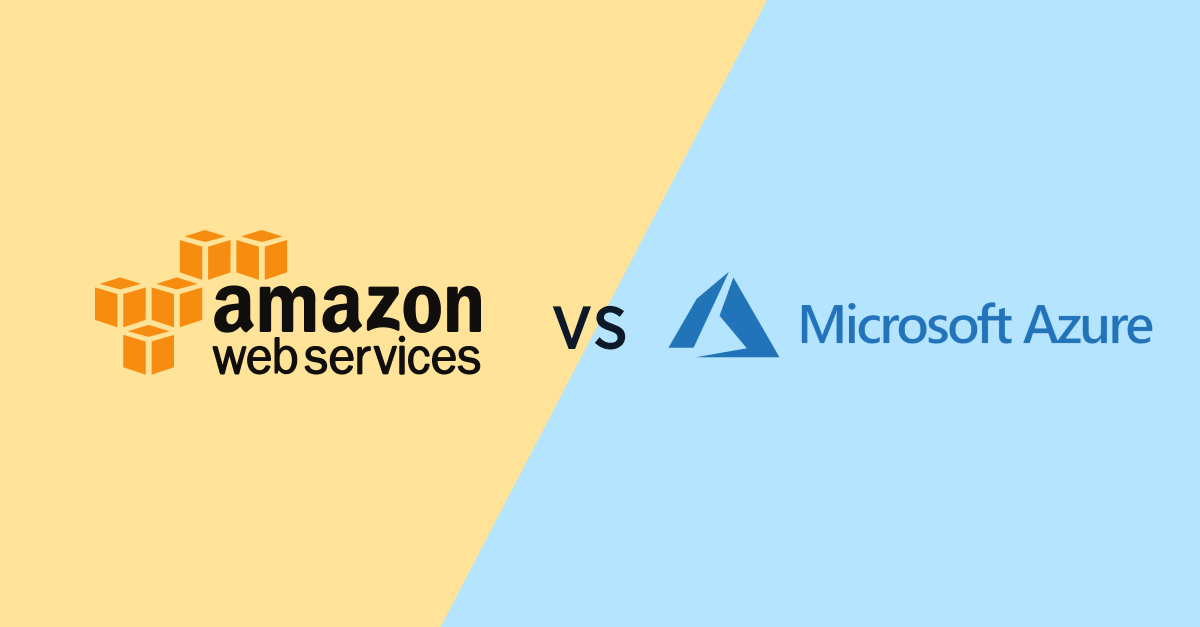 Any serious discussion about cloud computing in 2022 will include mentions of both AWS (Amazon Web Services) and Microsoft Azure. The two cloud computing platforms have set themselves apart from any competition with their computing power and storage capabilities. But when you look at AWS vs. Azure, which one comes out on top in the battle of computing titans? The answer likely depends on your company's unique situation and cloud computing needs.
In this article, we will compare Azure and AWS services to help you understand how both platforms work so you can decide which one is best for you.
Comparing
Microsoft Azure vs. AWS
The use of cloud services has grown exponentially in recent years. In 2022, worldwide end-user spending on public cloud services is anticipated to grow 20.4% to total $494.7 billion, up from $410.9 billion in 2021, according to the latest forecast from Gartner, Inc. That forecast predicts that in 2023, end-user spending will reach nearly $600 billion.
As the cloud services market continues to grow, it's important for end users to understand the advantages of each one when making buying decisions. We're going to take a look at Microsoft Azure vs. AWS in five areas: computing power, storage, pricing, databases and market outlook for 2023.
Computing Power
One important point of comparison is computing power. Before you invest in any cloud service, you'll want to ensure that it offers enough computing horsepower to keep up with your company's demands.
When looking at Microsoft Azure vs. AWS, how do the two platforms compare on computing power?
AWS uses elastic cloud computing

. Also known as EC2, elastic cloud computing is when available resource footprints may shrink or grow on demand, and a local cluster provides only a portion of the pool available to all jobs. EC2 users are allowed to configure virtual machines (VM), choose from pre-configured machine images (MIs) or customize their own MIs. AWS EC2 users have the ability to control the power, size, memory capacity and number of VMs they want to use.

Azure users must choose a virtual hard disk (VHD) to create their VM

. Either the user or Microsoft can pre-configure the VHD, which relies on virtual scale sets for scalability purposes. 
Storage
Successful cloud deployment is impossible without sufficient storage to complete the job. When you compare Azure and AWS services, it's clear that both have strong storage capabilities. So what's the difference?
AWS uses virtual machines hosted on AWS infrastructure

. Temporary storage is used once per individual instance and then destroyed once that instance is terminated.

AWS also offers block storage

, similar to a hard drive. Object storage is available through S3, and Glacier provides data archiving.

The object size limit for AWS is 5 TB

.

Azure uses temporary storage through D drive and Page Blobs for VMs for block storage

. Block Blobs and Files doubles as object storage for Azure. Azure offers 2 classes of storage, Hot and Cool. The Cool option is less expensive, but users will incur read and write costs.

Azure has an object size limit of 4.75 TB

, and there is no limit on allowed objects.
Pricing
For some companies, pricing may be the biggest factor when looking at an Azure to AWS comparison. Both AWS and Azure offer free introductory tiers to let you sample their systems and discover how well they integrate with your current systems. Once you sign up, there are major pricing differences when comparing AWS vs. Azure.
AWS offers a pay-as-you-go pricing model

, so there's no long-term contract. Their purchasable options include:

On-demand (pay only for what you use)

Spot (Place bids for any extra available capacity)

Reserved (Saves an instance for 1 to 3 years, and upfront costs are based on use)
Azure charges by the minute

, making it a more precise pricing model than its competitor. Azure also features short-term commitments, giving companies the option to choose monthly or prepaid charges.
Databases
Whether you're looking for a relational database or a NoSQL database, both Azure and AWS have strong offerings. Both systems work with NoSQL and relational databases. They're durable, highly available and offer easy, automatic replication. Mostly, AWS and Azure differ in terms of which database engines they support.
Amazon's RDS (Relational Database Service) will support six of the most popular database engines:

Amazon Aurora

MySQL

Microsoft SQL Server

MariaDB

Oracle

PostgreSQL
Azure has based their database solely on Microsoft SQL Server. 
Market Outlook for 2023
Comparing AWS vs. Azure in terms of market outlook, as of April 2022, AWS has 33% of the cloud computing market, with Azure gaining ground at 21%. In 2017, Azure only had a 10 percent market share and was able to double its share in short order, thanks in large part to the power of the Microsoft name and its integration with existing Microsoft products. There's no reason to think Azure won't continue to steal away a higher share of the market, but AWS is likely to hold pretty steady with its history and strong product offerings.
Need More Information on
AWS vs. Azure
? Let Sphere Partners Help.
Want to talk about your cloud development and infrastructure? If you're comparing AWS vs. Azure and would like expert advice on choosing the best option for you, fill out our contact form and we'll be happy to advise you.