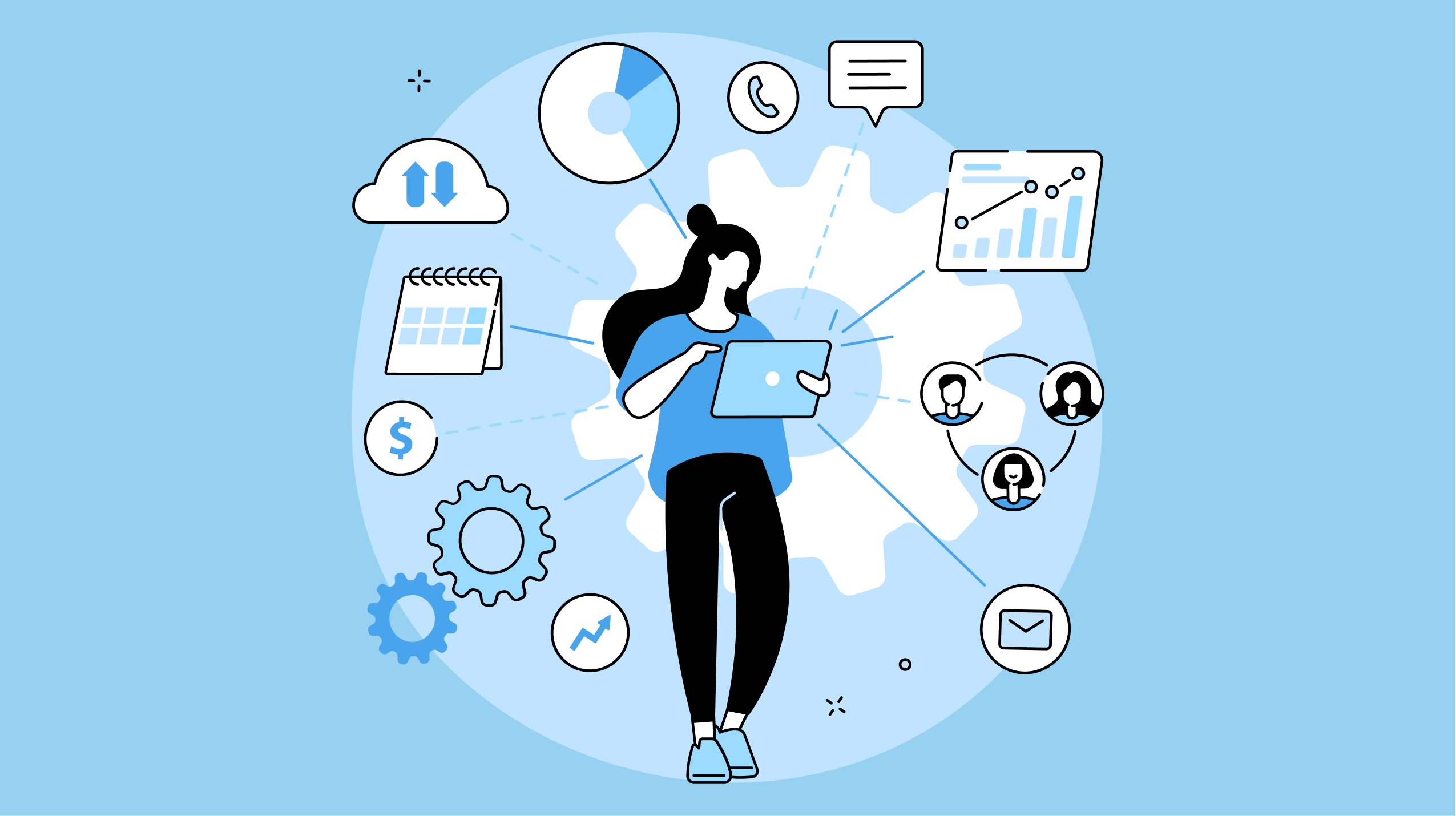 BI Tools Comparison: Choosing the Right BI Tool For Your Business
Business intelligence (BI) tools empower data-driven decisions through data visualization, mining, and business analytics. Businesses make better-informed decisions through actionable insights. Data visualization and aggregation tools help us understand the numbers and make sense of business data.
BI software brings data to life, allowing you to interact, analyze and present the data. BI tools gather, control, and interpret large sets of unstructured and structured data. 
They help you gain valuable insights by presenting data through graphics, charts, reports, and other methods. It's easier to analyze market changes, trends, and events to help your business adapt and succeed.
BI tools have different strengths, uses, and various tools. It takes some dedication and research to determine the best tool for your business. 
‍This comparison between BI tools explores the top features, pros, and cons to help you make an intelligent decision for your business. 
What Are BI Tools?
A BI tool is software that collects, processes, interprets, analyzes, and presents large sets of past, current, and expected future data. The software can develop interactive reports and actionable business insights to simplify decision-making.
BI platforms consist of dominant features such as:
KPI scorecards

Interactive dashboards

Visual analytics

Data visualization

Predictive analytics features

Automated reporting
These features are all in one platform, which ensures accessible and efficient data analysis.
Comparing BI Tools
Most BI tools promise to deliver different benefits and resolve various issues for your business. 
In this dynamic industry, it's essential to keep track of the new innovative tools that are likely better for your business. 
Below is a list of the best BI tools in 2022, their functionalities, and pros and cons to help you compare BI tools.
1. Microsoft's Power BI
Power BI is a comprehensive suite of business analytics and data visualization tools. It has easy-to-use tools that help to visualize, transform and analyze data pipelines. 
Power BI focuses on unifying data from different sources on an interactive dashboard. It's easy to generate reports that enhance business results through actionable insights.
Everyone gets access to updated and real-time analytics, allowing the ability to make confident and intelligent decisions. 
Power BI is simple to use, especially if you have Microsoft stack and Excel skills. As a Microsoft product, the platform has the same architecture and principles as other products by Microsoft. 
The design aims to enhance MS Excel's functionalities by extending operability and connecting to the cloud. The software leverages various Microsoft tools, including SQL Server, Azure Cloud Service, and business analytics. 
The platform can integrate with any data source. You can create visualizations like charts by dragging-and-dropping pieces of data on blank reports. 
Power BI is a powerful tool with robust governance and protection protocols. The desktop application features additional data normalization and cleansing tools.
Pros
Robust connectivity and data ingestion capabilities that seamlessly merge

cloud and on-premise data

Offers compelling data governance features

Integrates with Python

Supports a mobile platform

Ability to combine or query multiple tables

Provides various pre-built dashboards that link to different services, products, and applications

Ensures excellent interactive capabilities, including visualizations and real-time reports
Cons
It can be challenging to integrate non-Microsoft technologies and products

Advanced analysis is complex and can be challenging to master

Visualizations and graphics could be better
2. Tableau
Tableau is a fantastic BI tool that can help you transform business data into valuable insights. The platform allows you to analyze data from any source in any format. It integrates with numerous data sources in the cloud or on-premise and supports ML and AI. 
Tableau has an interactive and customizable dashboard with various analytic tools. You can create different visualizations, such as charts, maps, and graphs, via drag-and-drop.
The platform has a low-code interface. It provides more than 150 in-built functions for data analysis and calculations. It also comes with multiple pre-designed data connectors. 
If your goal for a BI tool is shareability and reporting, Tableau is your best option. You can share data analysis within your company while retaining access control.
The platform allows smartphone access and offers one of the best mobile experiences. It also supports cloud hosting to accommodate large data sets. 
Pros
Provides powerful automation and data integration features

Boasts outstanding visuals

Integrates with Python

Supports a mobile platform

Effective customer support 24/7

Ability to combine or query multiple tables

Supports most operating systems and devices, including all primary mobile platforms

Has robust data presentation and management features
Cons
3. Looker
Looker is a BI tool that enables the visualization of data pipelines. The platform uses updated analytic databases to present real-time results.
Looker is perfect for data-driven workflows that rely on analytics and modern BI. The interactive dashboard is highly customizable. You can easily create different visualizations like graphs and charts on the platform.
One of the most outstanding features is the LookML which helps to extend SQL. You can create a modular, extensible, collaborative new version controlled by Git.
Looker boasts top-notch encryption and outstanding security that meets HIPAA, GDPR, SOC 2 Type II, and other regulatory standards.
Pros
Excellent customer support

Easy-to-use dashboard and interface

Integrates with major data platforms and databases
Cons
The platform's simplicity affects its flexibility

Loading sometimes takes a long time

It doesn't integrate with Python

Lacks the ability to combine or query multiple tables

It can be expensive

for some businesses
4. Data Studio
Google's Data Studio transforms business data into shareable, easy-to-read, informative, and customizable reports. 
The platform seamlessly integrates with Google's native data sources like BigQuery, Sheets, YouTube, and Google Ads. You can work with apps like TikTok or Snapchat and upload data from any database, including MySQL and Postgre. 
Data Studio is web-based, which allows real-time collaboration on the dashboards and visualizations. The interface is simple, so it's easy to interact with the dashboard and create reports and visualizations by drag-and-drop. 
Pros
A simple interface

Free to use

Lightweight and open-source

You can upload data from numerous sources

Easy to create visualizations

Ability to combine or query multiple tables
Cons
Third-party connections can disconnect, leading to missing data

There can be a steep learning curve for some features and capabilities

It doesn't integrate with Python
5. Metabase
Metabase is an innovative BI tool popularly used to pitch business proposals and ideas to key decision-makers and stakeholders. 
Since it's an open-source platform, you can download and enhance or extend the code based on your needs. You can summarize data with little or no analytic and coding experience since you don't need SQL or other coding knowledge. 
Metabase provides a quick and convenient way to share analysis and data within your organization, and is compatible with most data warehouses, including Azure, BigQuery, and Redshift.
Pros
The platform and interface are simple

Integrates with Python

It's suitable for beginners with little or no experience

Lightweight and open-source

Flexibility is the platform's strongest feature

Ability to combine or query multiple tables
Cons
Data governance has limited scope

It lacks essential features such as predictive analytics, benchmarking, ad hoc reports, and performance metrics.

Metabase can randomly crash graphs
6. Grafana
Grafana is a popular web-based platform famous for creating excellent data visualizations. The software integrates with multiple data sources, such as:
This innovative BI tool gathers data and then uses an agent to complete the query via services such as Graphite.
You can use the data to form highly customizable graphs, charts, and operational dashboards. The platform also has an effective alert management system. 
Pros
Easy to integrate with multiple data sources, including Graphite and Prometheus

Lightweight and open-source

Ensures outstanding data visualizations

Plugins are available for most operating systems and storage arrays

Highly customizable, so you can customize notifications, alerts, dashboards, and data sources
Cons
Grafana's highly customizable properties can be challenging for beginners. The process can be tedious and time-consuming

It doesn't integrate with Python

Requires third-party storage solutions to maintain records of historical data

Optimizing Grafana requires skills in SQL and JSON programming languages

Lacks the ability to combine or query multiple tables
7. Superset
Superset is an excellent data exploration and visualization platform. This open-source platform is lightweight, swift, and intuitive. It offers a simple way of exploring and visualizing data through elaborate geospatial charts. 
You can divide the data sets during analysis to create detailed visualizations from unique data sets. 
Superset enables defining a list of default functionalities and users for a group of people. This ability helps you analyze user statistics, grant specific access, and form baseline permissions.
Pros
Superset easily integrates with third-party tools

Lightweight and open-source

Free to use

Easy to set up for commercial purposes 

Highly interactive dashboards and charts

Integrates with Python

Can connect to multiple data sources

Requires no code or SQL to provide BI
Cons
Superset doesn't work with NoSQL databases

Large data sets can cause SQL-Lab queries to freeze

Lacks the ability to combine or query multiple tables

It can be challenging to manage roles and assign access

Limited customer support
Choosing the Right BI Tool
There is no shortage of BI reporting tools on the market to choose from. Each of the tools have their own strengths and weaknesses. They all can interact with your data and manifest each tool's unique value.  Selecting the right one for you is heavily influenced by  your particular needs.   
Sphere Partners offers comprehensive expertise in technology solutions, if you're struggling to decide the best option for your business. Our global team of experts include analysts, developers, engineers, solution creators, and tech and business consultants. 
Still need help choosing a BI tool for your business, have a specific question or looking for analytics support? Reach out to us today and consult with one of our experts with no obligation.