Healthcare Software Interoperability is Critical: How to Achieve It
Speedy and timely patient care is dependent on having interoperable systems and databases
By Igor Meltser, VP of Global Technology Solutions and Services, Sphere Partners
The third-leading cause of death is medical errors ", stated BMJ data analysis in 2016, identifying the lack of interoperability between opposing providers as the primary factor. In 2023, interoperability is still top of the agenda for leaders and decision-makers, referring to the timely and secure access, integration and use of electronic health data to optimize health outcomes for individuals and populations.
Crucial medical errors, occur because a patient's vital data, like allergies, medications, and pre-existing medical conditions, do not travel with them. Having to deal with legacy software and systems can often hinder a patient's proper and timely treatment. Why is interoperability critical, what are the current inhibitors to interoperability, and how to overcome these barriers?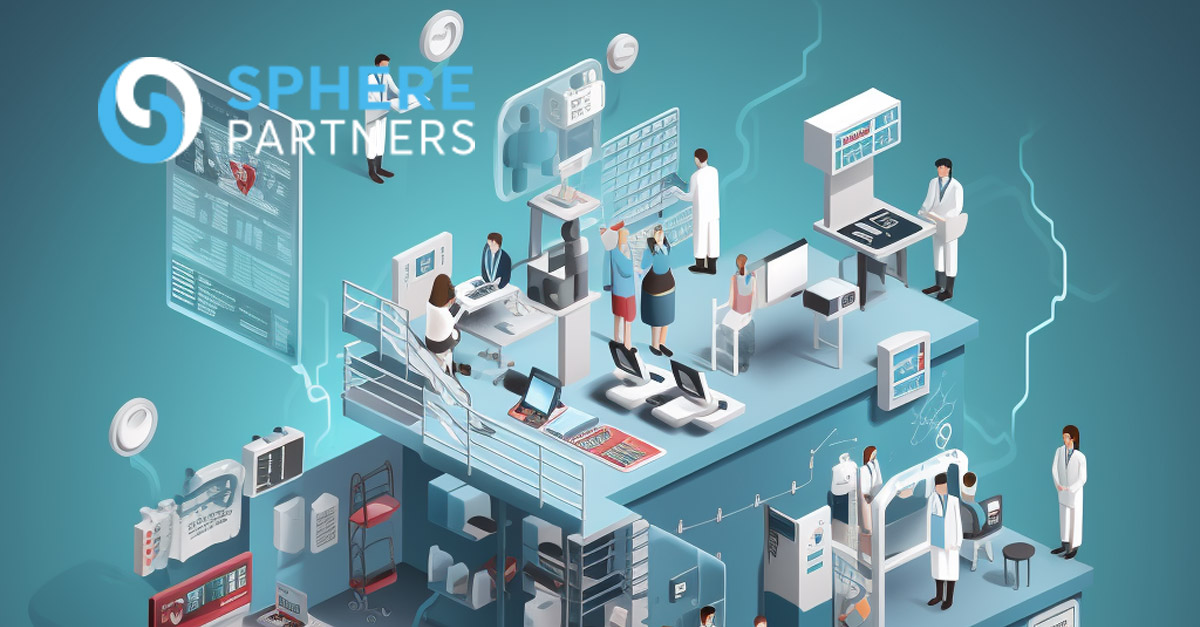 Healthcare Software Interoperability, a Matter of Life and Death
In its National Roadmap, the Office of the National Coordinator for Health Information Technology (ONC) reports that electronic medical records (EHR) use has increased significantly in the US. Many hospitals now have systematic access to medical records and patient data from external providers, but fewer than half integrate the data they receive into individual patient records. Creating an integrated data ecosystem is still a work in process, and a crucial one.
Better Care Coordination
Indeed, with relevant data access, clinicians can more easily access a patient's most important health information, which can lead to fewer repeat tests, prevent inadvertent therapeutic interactions and reduce communication errors.
Higher Performance
With seamless data combination, analysis and processing significantly improve, bringing unprecedented results. Interoperability enables organizations to study data trends, past performance and make data-driven improvements in patient care.
Optimized Experiences
Data interoperability can reduce redundant administrative work inside and outside organizations, creating a more satisfying experience for both employees and those they serve.
Bespoke Care for Individuals and Communities 
Interoperability's main benefit is helping doctors and other healthcare providers gain an all-encompassing view of their patients. As a result, patients feel closely monitored, safer, and known. In addition, health data interoperability also helps organizations across the healthcare sector. Health programs could better understand utilization rates and service demand with better integration of health information systems. Public service providers could access population data to identify trends and meet the needs of their citizens.
Healthcare Interoperability Inhibitors
Many healthcare experts and leaders agree that better interoperability would improve healthcare. Yet, healthcare organizations face numerous challenges when making their data and systems more interoperable.
Lack of Coordination
Even though a healthcare organization may have excellent interoperability within their particular enterprise, they often need help communicating with an outside health organization. Improving interoperability requires strong coordination between different organizations, regulators and executives, and within organizations. Regulators provide standards and rules that healthcare organizations must follow; however, organizations that want to be proactive about interoperability should consider creating a dedicated strategy and prioritize interoperability planning.
Limited Budgets
Not all organizations have the financial or technical resources to invest in the necessary technical resources to set up a fully interoperable system. There may be government subsidies available to upgrade medical record systems. Organizations should therefore check whether they are eligible. Many cloud service providers also offer pay-per-use models that could make technical expenses more affordable and predictable.
Diverse Technological Needs
Organizations must comply with different rules and regulations depending on the type of care they provide and their location, so many organizations have highly customized data. Organizations can help connect different internal and external systems with a hybrid cloud platform to combine and integrate their data without sacrificing the necessary customizations.
Existing/Legacy Systems
Healthcare organizations hindered by legacy systems face the dual challenge of modernizing their systems and meeting interoperability requirements. Organizations can achieve both by using a hybrid cloud approach to extract data from legacy systems and make it more accessible to modern applications and programs. This approach allows organizations to maintain data transfer while they work on updating their systems.
4 Best Practices to Overcome Existing Barriers in Healthcare Interoperability
Leverage the Cloud to Break Down Silos
Cloud-based solutions make it easier to store and manage large quantities of structured and unstructured data by offering scalability, flexibility and agility. As a result, they play an essential role in breaking down data silos. Cloud technology removes accessibility barriers, giving stakeholders all the information they need to improve patient care. Healthcare organizations prefer a cloud provider that offers FHIR (Fast Healthcare Interoperability Resources) services to ensure data consistency.
Assess your Current Needs for a Thoroughly Planned Approach
For successful healthcare interoperability, it's vital to understand stakeholders' data requirements and needs. Identifying gaps in data collection and exchange and becoming familiar with different types of data and protocols is vital. Indeed, gaining a comprehensive understanding facilitates the implementation of interoperability solutions in healthcare organizations that support real-time information exchange and efficient data-sharing techniques such as point-to-point connections.
Adopt Standardized Terminology to Ensure Consistency
Standardizing healthcare messaging, structure, content, and format is also crucial for seamless data exchange between systems. By representing clinical information through codes, you can share and use data effectively for collaborative purposes, promoting advances in healthcare through data-driven research. Adopting standardized terminology such as "Systematized Nomenclature of Medicine – Clinical Terms (SNOMED CT)" ensures accurate interpretation of healthcare data and empowers patients and providers to use a universal language.
Adopt an API-Based Approach to Improve Efficiency
APIs are a must-have option for achieving healthcare interoperability. They are a cost-effective way to optimize Electronic Health Records, enabling EHR vendors to keep track of changes in policies and guidelines. They allow applications and software to communicate seamlessly with each other. APIs enable secure information sharing whilst reusable. They are easy to integrate into new products and services. Healthcare organizations also opt for APIs to comply with CMS Interoperability and Patient Access.
In Conclusion
With better interoperability, decision-makers across the healthcare sector can focus on accessing and using health information, regardless of its source, to build more effective models of care and improve patient safety and the experience of the people they serve.
If you need proven healthcare software experts to help you with interoperability issues, we're here to help. Contact us today and let's get started.