Top 10 Acumatica Integrations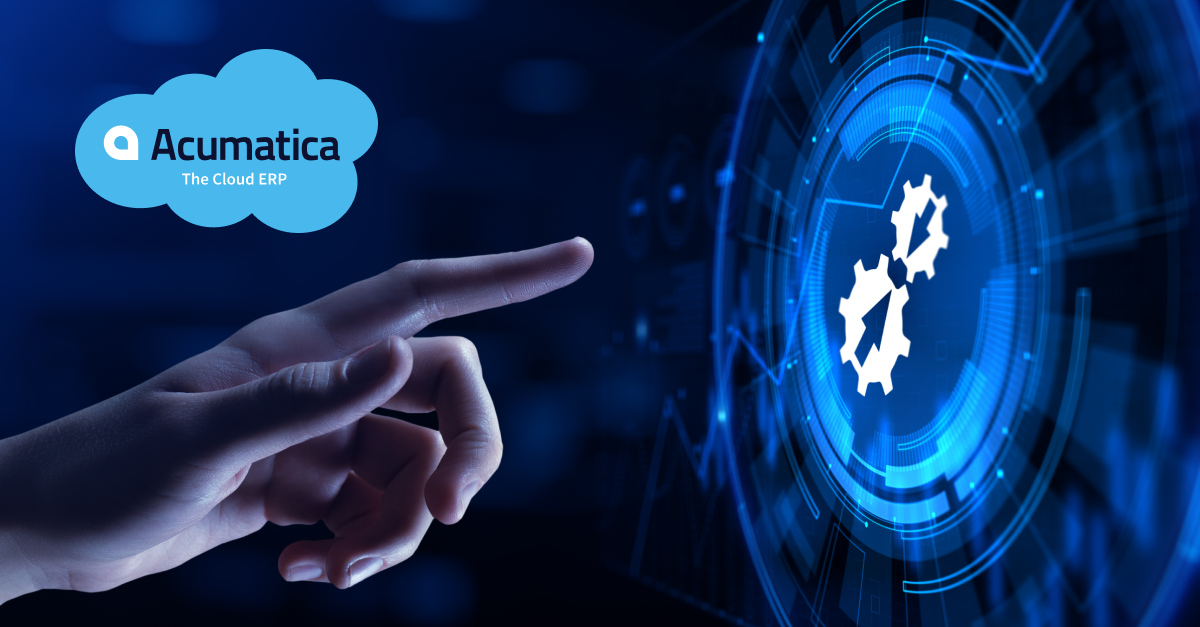 Acumatica is an award-winning enterprise resource planning (ERP) solution for small and mid-size businesses. It's also a cloud-based solution that integrates with your existing business software to improve efficiency. In addition, Acumatica's collection of powerful tools helps your business in finance and accounting management, inventory and distribution management, and customer relationship management (CRM). 
Acumatica offers a lot of benefits for companies, including: 
Affordable process automation with Acumatica and hundreds of integrations
Unlike other process automation solutions available in the market, Acumatica offers everything you need in a single platform, giving your business complete control over how and what information is available, who can access it, and where. Acumatica is making it easy for anyone to build processes and automate them across any industry or organization. 
Visibility into business processes across departments
Business processes across every department of your business can improve by leveraging the right technology. By implementing cohesive and effective business processes, you will receive better visibility into business activities and workflow efficiency.
Increased workflow flexibility, leading to better productivity and collaboration
Using modern technology like Acumatica to streamline your business processes can have a dramatic impact on increasing workflow flexibility and productivity.
Secure cloud-native solutions accessible from any device
Cloud-native solutions have a unique characteristic. They are accessible from any device and through the internet. This is one of the advantages they have over traditional applications that you must purchase, configure, and maintain on each device you choose to install them.
Improved customer satisfaction from streamlined production and delivery
Breaking down the barriers that separate manufacturers from their customers are a major step toward improving customer satisfaction. Manufacturers can accomplish this by streamlining their supply chain, which includes all production, distribution, and delivery stages.
If you'd like to learn about Acumatica's list of features, check out the top Acumatica ERP features we've listed here.
Choosing the Right Acumatica Integrations
Choosing the right Acumatica integrations for you depends on what tools you are already using or would like to start using and would like Acumatica integrated with. Integrating can help you reduce manual data entry and increase overall efficiency. Whether your business is in manufacturing, construction, e-commerce, finance, logistics, or a hybrid of these, Acumatica integrations match your context. Every company needs business intelligence, process automation, data analytics, and client support systems. 
There's an Acumatica integration for each of these needs and more. The Acumatica marketplace has over 260 integrations, and the list keeps growing. Let's look at the top 10 Acumatica integrations for your business today.
1. Salesforce
The Salesforce Acumatica integration is a bundle of automation workflows to integrate Salesforce data, such as: 
Contacts, accounts, and customer profiles

Pricing and item updates

Purchase orders and fulfilments  

Invoice, payment, and deposit information
This Acumatica Salesforce integration synchronizes your activities regardless of the application you use, so there's no need to enter your data twice. You don't need to write code or design a custom API–the Acumatica Salesforce integration automates your processes right from the box. 
It also has a user-friendly dashboard to give you the visibility you need into your business data. This integration significantly improves your Salesforce flows and adds accuracy and efficiency to your sales and marketing strategy. 
2. Shopify
The Acumatica Shopify integration is a native solution optimized for converting your Shopify marketing campaigns. This back-office solution saves time by automatically updating your Shopify code and content so that you can deliver a high-quality customer experience on your front-end. 
The Acumatica Shopify integration is quick and easy to deploy. You can automate your store without losing time or dropping leads. It syncs your customer, product, inventory, order, and fulfillment data in real-time or according to your desired schedule. It also gives you access to your Shopify code to fully customize your online store to match your customers' needs. 
3. BigCommerce
The Acumatica BigCommerce integration links your BigCommerce storefront with Acumatica's financial, inventory and operations tools. This integration offers end-to-end visibility into your e-commerce activities on one interface. You'll no longer need to check your CRM, ERP, or digital payment systems separately for your financial data. 
The BigCommerce integration is also native to the Acumatica Commerce suite, so there's no need to buy additional software. Like the Salesforce integration, the Acumatica BigCommerce integration gives you bidirectional data in real-time. You can also customize your BigCommerce integration to work with your on-premise systems or other bespoke APIs.
4. Celigo/Integrator.io
The Acumatica Integrator.io integration (provided by Celigo) works best for businesses with multiple applications across departments. Sharing data between applications is difficult in such an environment, often leading to siloes and bottlenecks. To scale your business, your sales data needs to communicate with your inventory, warehousing, accounting, and CRM data. 
The Data Loader feature allows you to automatically import data from a range of business applications in or out of Acumatica from a low code/no code interface. This integration automates all your critical business functions and makes your data more accessible for users, admins, and developers. 
5. Velixo Reports
The Acumatica Velixo integration supports businesses that rely on Excel spreadsheets for daily functions. It adds a Velixo toolbar to Excel that links to your Acumatica Cloud ERP. It helps you generate reports like inquiries, projects, budgets, and ledgers for unlimited Excel users. 
Velixo Reports eliminates the need to upload multiple spreadsheets into Acumatica or manually create and distribute reports. It also allows you to write Excel formulas and queries in the Acumatica database, improving report generation flexibility. 
6. Netstock Integrated Business Planning (IBP)
The Acumatica Netstock IBP integration improves business planning and forecasting. It taps into an industry-leading statistical forecasting engine to discover insights about your customers, region, marketing channels, and more. 
Netstock IBP also allows you to monetize your forecasting outcomes and plan for various market scenarios to keep your business profitable in the long term. It uses an intuitive visualization dashboard to present robust statistical analytics and insights. Using this integration, you can run as many "what-if" scenarios and use the findings with Acumatica to make business decisions. 
7. Workforce Go! Human Capital Management (HCM)
The Acumatica Workforce Go! The integration connects your ERP to today's most powerful suite of automated HR, scheduling, payroll, and attendance platforms. HCM is an excellent solution for HR teams to unify teams into one database and interface. 
Workforce Go! Integrations improve productivity and engagement while maintaining HR compliance regulations. You can also streamline your HR workflows to include performance reviews and compensation and benefit plans. This Acumatica integration can help you manage HR processes from recruitment to retirement with Workforce Go! HCM. 
8. DataSelf 
The Acumatica DataSelf integration reveals your business intelligence (BI) potential. DataSelf is a combination of data visualization and warehousing. It combines systems like Tableau and PowerBI to generate report templates, dashboards, and customized KPIs for your business. 
The Acumatica integration allows you to run queries and view your business data within hours of deployment. It also connects to numerous other CRM and ERP systems to aggregate your business data.
9. Inventory Optimization Solution
The Acumatica Inventory Optimization Solution integration is a straightforward but powerful solution for inventory planning and management. It offers simple dashboards with clear insights. You don't need to be a data science expert to interpret your business data or spend valuable time creating inventory spreadsheets. 
Inventory Optimization Solution is the right tool for small businesses looking to scale while retaining their Acumatica subscription. Note that this integration is also part of the Netstock suite, making it easy to integrate into your existing business applications. 
10. Quality Management Suite (QMS) 
The Acumatica Quality Management Suite (QMS) integration is another native solution designed for the manufacturing and distribution industries. These businesses must streamline internal quality controls, adhere to industry compliance requirements, and deliver excellent products and customer service. 
QMS integrates with Acumatica ERP to give you complete visibility into your quality control systems, production, shipping, and performance management. This Acumatica integration reduces errors, saves money, and produces high-quality products for manufacturers. 
Manage Your Acumatica Integrations with Sphere Partners
These Acumatica integrations are just the beginning of improving your business processes. You can deploy Acumatica integrations in a public or private cloud environment and choose the best licensing package based on usage. There are no hidden fees for using Acumatica integrations, so you only pay for what you use and increase or decrease your subscription depending on your needs.  
However, Acumatica is only available through certified resellers like Sphere Partners to help you with integration and support. We optimize and accelerate your Acumatica integrations and offer guidance on the best add-ons for your company. 
Sphere Partners help you understand how Acumatica improves your bottom line and the best strategies to gain a healthy ROI from your automation solutions. In addition, you'll enjoy two layers of service support from Acumatica and Sphere Partners. Contact Sphere Partners today to dive deeper into Acumatica integrations to maximize your business outcomes.