Software Division Carve-Out by Private Equity Firm
A mid-market PE firm acquired a software division of a global information provider to carve out a new entity that would consolidate the large portfolio of on-premises legacy applications into a SaaS platform. The new entity was formed as a platform company that would focus on organic growth through sales of existing products and services and incrementally through future acquisitions. As a result of the acquisition, the newly formed company consisted of almost 1000 people located in different countries across the globe.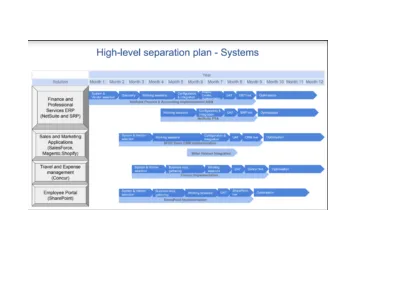 The Challenge
Timing: 
Given the nature of the transaction (Carve-Out), the seller(parent company) retained all of its business infrastructure including all of the core business applications such as ERP, CRM, PSA, Web, HR, Ecommerce, data warehouse, analytics and intranet. The seller company agreed to provide 6-months of support for the new entity to completely transition and rollout its own set of applications.
The separation agreement stipulated that the parent company would provide limited support during the separation, largely focused on network and infrastructure. That introduced a major challenge due to a lack of parent company's internal process expertise that would be required to implement new business systems.
Scope:
Given the nature of the transaction and the dependency on the internal systems across all core business and functional areas of the new company, the entire ecosystem of applications had to be implemented within time frame(6 months) specified in the technology separation agreement
Resources:
As a result of the transaction, a significant number of key functional and technical resources left or were in the process of separating from the new company due to the strategic "Synergy" process. Resources that stayed didn't possess the expertise to take on new systems implementations.
How We Solved It
System Implementation:
The new company brought in a VP of Technology with experience in implementing core business applications and digital transformation execution.  The executive engaged with Sphere to provide cross-functional expertise in the areas of digital marketing and CRM, accounting and finance and systems integration to expedite this comprehensive implementation.
A combination of due-diligence documentation and a 2-week functional discovery sprint allowed the team to deliver high-level BRD documents that specified future systems technical and functional requirements. Augmenting your team with Sphere's capabilities at this stage of the engagement saves money and time later.
Best-of-breed cloud applications were selected to fulfill the business requirements in the timeframe provided, the NetSuite ERP and Hubspot CRM were selected to replace a mix of loosely integrated legacy applications of the parent company (SAP ECC/MS Dynamics, Saleslogix CRM, ). Both systems satisfied implementation timeline, cost, hosting, international data storage regulations, multi-subsidiary and multi-currency, integration capability, user access (web-based, mobility, MFA) and over 80% out of the box functional requirements.
Change Management:
During discovery and throughout implementation, key resources were identified within the new organization to actively participate in the system configuration process. Expediting system adoption as well as providing real-time feedback to QA.
Post Implementation Support:
During the discovery phase, some integration workflows and automations were identified as risks against meeting the deadlines specified by the TSA. In order to deliver on time, these integrations would be delivered post the " Go Live" date. It was important to identify complex but non-critical processes to reduce risk in the project. A post rollout phase to stabilize the systems and focus on the predefined outstanding scope was initiated shortly after the global rollout.  Identifying these issues before they become bottlenecks is the reward for engaging with teams highly-experienced in complex product integrations and Agile methodologies like Sphere.
The Results
Divestiture/Carve-out driven system implementation projects inevitably surface challenges requiring unique solutions. Aggressive implementation timeframe, insufficient internal resources, spare documentation, conflicting priorities and complex scope are some of the characteristics of M&A technology projects. Time-to-implement is almost inherent to this class of solutions because of the impending deadlines as a condition of the separation. Dedicated, augmented resources are crucial to succeeding against these inflexible constraints. The team must possess deep technical and functional expertise to be able to quickly determine in-scope/out-of-scope requirements and focus primarily on the vital aspects of the implementation. These are qualities that aren't necessarily out of reach for internal teams, but they are less likely transition seamlessly into this dynamic problem space as teams that have Sphere's wealth of experience at integrating complex systems projects across the whole of just-created new corporate entity.
It is important to understand that an M&A transaction is an extremely disruptive and stressful time for any organization. Change management, system adoption, system training, and post rollout support should be included in your implementation planning.