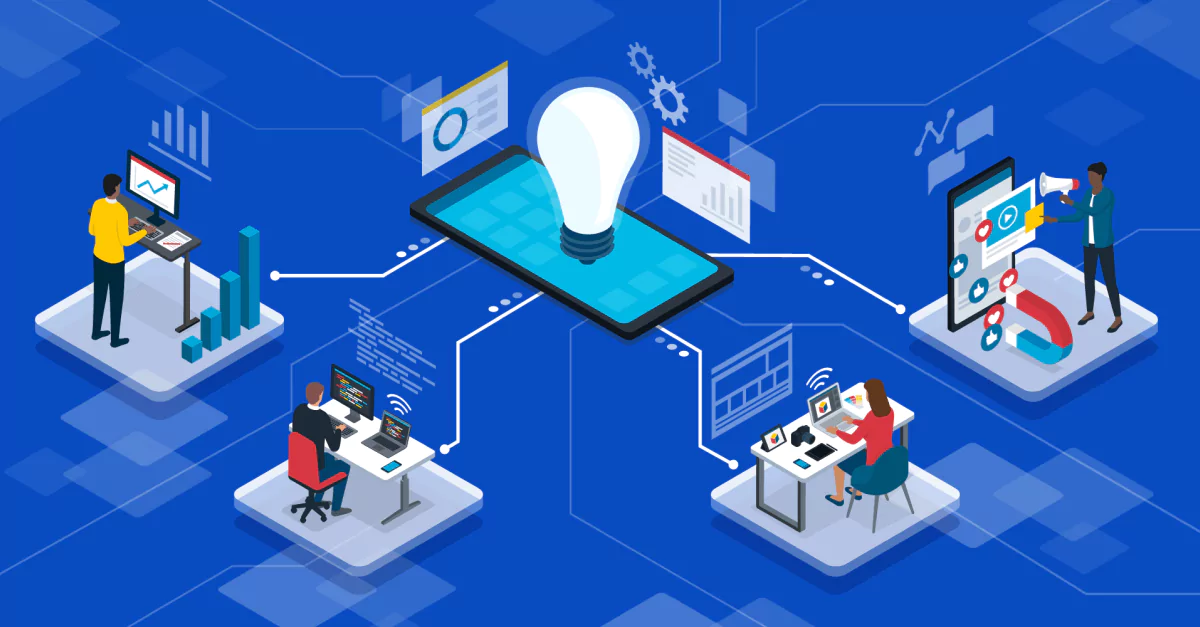 Resource Augmentation: A New Means of Enhancing Your Team
A report by tech giant IBM has concluded that 45% of organizations experience difficulties finding the right talent for their requirements. As a result, many businesses no longer solely rely on their internal IT teams to complete their software development projects. The resource augmentation market worldwide is experiencing steady growth that is only expected to continue in the years to come.
If your company is facing challenges finding and recruiting the right software development talent, resource augmentation may be exactly what you need. Let's look into the resource augmentation basics, when it may be necessary, and how you can benefit and get the most out of it.
What Is Resource Augmentation?
Resource augmentation is an agile, cost-effective, and flexible outsourcing strategy that allows businesses to hire third-party top tech talent on a contractual basis for a specific project or various projects. 
The resource augmentation outsourcing model provides startups, mid-sized businesses, and large corporations with the right resources at the right time. The augmented resources collaborate with an organization's internal staff. They usually work remotely and can join the workflow immediately. 
When Can Resource Augmentation Be Necessary?
There are a few situations in which organizations can benefit from resource augmentation solutions, for instance:
Your Business Needs Help Completing a Project
If you have realized that you lack the manpower or expertise to meet project deadlines or budget expectations, resource augmentation can set you on the right track.
Your Team Lacks the Skills or Expertise Necessary to Complete a Project
Resource augmentation can be an effective means of "filling the gaps" in the knowledge and expertise of your internal IT team.
You Temporarily Need Specialized Skills
Does your project require specific skills that your in-house developers do not possess or would take time to master? Or perhaps you have a spike in demand that your existing developers can't fulfill? Resource augmentation can provide immediate assistance and support. 
You Need Temporary Help While Assembling a Permanent Team
Are you looking for full-time employees but don't want to waste precious time and capital? Resource augmentation can keep your project going while you find, vet, onboard, and train permanent employees and assist you with any issues as they arise. 
Benefits of Resource Augmentation
Enhanced Productivity 
Hiring full-time staff is a tedious and expensive process. According to a Glassdoor study, an average employer spends an average of $4,000 and 24 days to hire a single employee. In addition, new recruits require onboarding and training, which also cost businesses money.
With resource augmentation, the hiring process is significantly faster, and augmented staff can start working on a project immediately. Since augmented resources are only temporary, businesses can scale their capacity up and down easily without reducing their software development pace.
Improved Operational Efficiency 
When developing new software solutions, businesses, especially startups and small and medium-sized companies, can incur steep operational costs. That's because their expenses tend to be high, while their return on investment is either small or non-existent. 
Resource augmentation allows organizations to lower operational costs and utilize their financial assets more efficiently. Besides that, augmented resources from a reliable vendor are skilled and thoroughly vetted. They are usually knowledgeable in agile practices, which allow them to complete tasks quickly and effectively. 
Reduced Development Costs
Resource augmentation offers businesses a few different ways to reduce their overall development costs. Since augmented resources are joining an in-house team for a limited time, this does not require organizations to invest in full-time salaries, tax costs, employee benefits, and more. 
Moreover, businesses can choose to recruit augmented resources from countries that have a lower cost of living and require lower salaries. Companies also do not need to cover a range of overhead costs such as equipment, taxes, and infrastructure, as it would be required with full-time, on-premises employees.  
Increased Flexibility
Businesses gain the opportunity to add additional resources within as little as a few days and increase their workforce whenever there are unexpected spikes in workload or demand. This can be especially beneficial for startups as they can begin the development process quickly without wasting their limited starting capital.
For specialized needs and requirements, businesses can temporarily invest in augmented resources rather than hire full-time workers they may not need consistently. 
Improved Scaling Capability
Development projects aren't linear. Sometimes, companies may have a more demanding period that requires additional manpower. In such cases, resource augmentation can be a beneficial solution.
Enterprises in the growth stage yet fear that they aren't ready to bring on new full-time recruits can also enjoy the benefits of the flexible resource augmentation model. Projects can be completed, and more hands can get involved; however, the company doesn't have to commit to long-term contracts.
Filling Workforce Gaps
Software development is complex and may require unique and specific skillsets and expertise to get completed. However, your existing team may lack the knowledge and experience needed to take responsibility for these tasks. Such talent may not be available locally, thus limiting a company's ability to complete a project successfully. 
Local talent may also not be interested in short-term engagements but seek longer-term positions. This, in turn, can incur additional expenses for businesses or require them to terminate employees if there is no consistent need for their specialized skillset. 
New Ideas and Expertise
Any business requires innovative ideas to remain relevant and competitive, especially in such a rapidly developing industry as IT. Meanwhile, having fixed, permanent teams leads to the stagnation of opinions and ideas. So, you need external minds to bring innovation and creativity.   
Therefore, if your in-house team feels stuck and could benefit from a fresh perspective, resource augmentation is an excellent solution. It can help your team break through inertia and leverage new, creative ideas. 
No Additional Legal Paperwork or Administrative Costs
When hiring full-time staff, businesses must follow specific legal procedures, such as filing the necessary paperwork and covering employee income tax. In Europe, for example, companies also need to pay additional taxes, such as social security contributions.
Resource augmentation is a straightforward process that usually only involves signing a contract. Your resource augmentation provider will cover the legalities and costs of hiring and maintaining these employees. 
Access to a Broad Pool of Talent
Resource augmentation gives businesses access to a wide talent pool of skilled and experienced professionals that expands beyond their geographic location. Usually, local hiring significantly limits the pool of professionals you can get access to, which, in turn, can affect the project outcome and timeline.
5-Step Resource Augmentation Framework
1. Define Your Needs
Before discussing your needs and requirements with a resource augmentation provider, determine how many new people your project needs. Next, define the specifications of each candidate you wish to bring on. This should include details such as their experience, skills, qualifications, tech stack, and expectations for what you would like them to accomplish. 
2. Pick Candidates Who Meet Your Criteria
Once you communicate your needs to your resource augmentation provider, they will search for the most suitable candidates to match your desired criteria. After that, you can perform interviews and assess whether they fit well. 
In addition to their technical skills, focus on details such as their language level and communication ability. Those will be crucial for them to collaborate with your existing team effectively. You can also perform technical expertise tests to review their suitability for the project. At Sphere, we vet our candidates' expertise to determine their suitability for our client's projects.  
3. Establish Roles and Work Processes
To ensure that your internal IT team and augmented resources know what's expected of them, define roles and workflows. As a result, each person will know how they fit into the workflow and project timelines, and your augmented resources will adopt your in-house processes and standards.
Here are a few best practices to follow:
Outline the scope of each milestone along with its acceptance criteria,

Define clear technical specifications of what you expect to be accomplished,

Continuously perform quality checks,

Manage the project delivery process to ensure you're on time and on budget,

Review work and provide feedback to remain up-to-date, minimize repetition of tasks or communication, and keep your team's morale high,

Use work, communication, and productivity management tools, such as monday.com, Slack, Jira, and similar, and

Document the details of your workflow.
If you lack experience and project management and would benefit from professional help, relay that to your resource augmentation partner. They will be able to supply you with a project manager who can help you define work processes and ensure that your workflows are lean and agile.
4. Maintain Transparent Communication
Some business leaders believe that resource augmentation will lead to them losing control of their projects. This can only occur with poor communication and project management practices. See other potential shortfalls of staff augmentation and how to mitigate them here.
To prevent that from happening, embrace transparent and consistent communication. This will not only ensure that you are familiar with the progress of the project but also improve the collaboration between your in-house team and augmented resources and address issues and concerns promptly. 
5. Document Your Code
Software consists of billions of lines of code and requires continuous maintenance and updates. Because of this, documenting code is imperative. It will help any developer on your team to understand the code of others and effectively make updates and improvements.
Therefore, try to establish that both your in-house developers and your augmented resources document code throughout the entire software development process. 
This is especially important if and when you scale your team down. Ensure that any developer leaving the project has documented everything before doing so. By contracting a reputable resource augmentation provider, you can rest assured that this requirement will be fulfilled.
Enhance Your Team with Sphere Partners' Resource Augmentation Solutions
Resource augmentation can set your organization up for success when it is done right. Thus, partnering with a trusted and experienced provider is vital. Sphere Partners has a proven track record of successfully bringing clients' visions to life. 
With over 350 completed projects and a 97% client retention rate, we can guarantee your IT needs are met. Contact us to share your vision and needs or for questions about our services, such as global team augmentation, data and AI, and software engineering, and we'd be happy to help.