Custom Atlassian Healthcare Solution for Delta Dental
01
Challenge
Delta Dental's digital transformation since 2014 has led to the need for enhanced project management tools, collaboration platforms, and Agile training, with Sphere Partners addressing pain points through tailored workflows, integration, and Atlassian Marketplace add-ons.
03
Results
Sphere Partners crafted a proof of concept for Delta Dental, implementing Confluence spaces, Jira Software integrations, and portfolio views, resulting in streamlined development and IT processes, extensive project management capabilities, and successful knowledge transfer through training demos and a comprehensive knowledge base.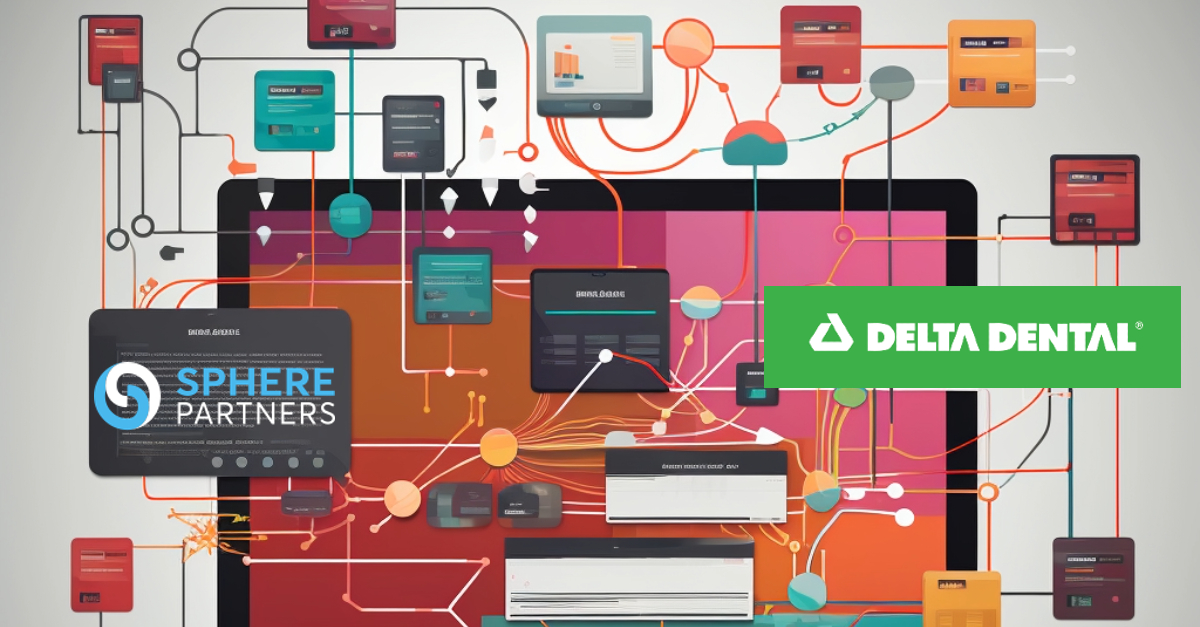 The Challenge
Amidst Delta Dental's extensive digital transformation journey since 2014, Sphere Partners stepped in to address critical needs, offering tailored solutions to enhance project, document, and product management, while guiding the adoption of Agile methodologies and collaboration tools.
Since 2014, Delta Dental has been facing a significant digital transformation. The company's growth necessitated the expansion of their software development and IT teams. Delta Dental required a sophisticated tool for managing all the development projects and initiatives, as well as a top-level collaboration platform for document management. To implement this solution, they first needed assistance with the migration from their legacy bug tracking system.
In phase two, the senior management team required additional consulting and training on Agile Development, as well as assistance with finding a collaboration platform for document management.
Discovery
When the Sphere Partners team met with Delta Dental stakeholders during the discovery phase, they identified specific pain points regarding document management, project management, and product management. Sphere recommended customized workflows and boards to track case and development cycles, while enabling traceability across teams. Integration with Confluence for product requirements and document collaboration was scoped to ensure a consistent source of project data. Additionally, Sphere suggested several Atlassian Marketplace add-ons for program management in Jira. Following our discovery session, we recommended a solution that would deliver Delta Dental's desired customization, functionality, and scalability to streamline their processes and mitigate bottlenecks in their workflow.
The Solution
Sphere Partners responded to Delta Dental's workflow challenges by tailoring a comprehensive solution, leveraging Jira and Confluence customization to unify teams, enhance tracking, and streamline processes, resulting in improved visibility, transparency, and efficiency across multiple business aspects.
After identifying Delta Dental's pain points within their current Jira/Confluence configuration and workflows, Sphere Partners offered a solution that leveraged robust project planning and tracking. Sphere recommended customized options in Jira, including conditions, validators, and post-functions to more accurately reflect their desired workflow. Jira and Confluence customizations brought all of Delta Dental's teams together on a single platform. As a result, Delta Dental's development team benefited from multiple workflows while the management team was able to effectively monitor their progress.
Below are several examples of the workflows that the Sphere team created:
Story / Bug Workflow helped Delta Dental's Business Analysts track and plan all of their development work across multiple workstreams.
General Workflow defined different Project Management milestones such as Action Items and Risks. This approach offered many capabilities for mitigating project blockers for the Project Management team.
Hotfix Workflow was designed to quickly track critical bug fixes across different business units. A unified workflow allowed Delta Dental to obtain accurate reporting and manage bottlenecks.
Jira customization and enhancements were implemented in the following areas:
Issue Types and Schemes
Workflow Schemes
Screen and Issue Type Screen Schemes
Adding Miscellaneous Custom Fields and Fields Configurations
Issue Security
Permissions Schemes
Notifications Schemes
Kanban and Scrum Boards
Dashboards
Add-ons (System and User-Installed)
Global Permissions
Project Roles
Backup Policies
Indexing and Logging
Global Mail Settings
User Management and LDAP
Workflow changes allowed QA and UAT teams to gain more visibility on the staging environment status, along with increased transparency for each of the development phases. Additionally, Sphere coached Delta's Scrum Masters on the best practices for Agile with Jira Software while defining their Scrum processes using Board features.
Integration with Confluence was crucial to provide the necessary connection between the requests and initiatives made by business stakeholders and the activities in Jira to deliver them. Sphere's Confluence configuration allowed Delta to switch from printed documents to using a digital collaboration platform, which decreased overhead and increased efficiency.
Sphere Partners made improvements in the following areas:
General Configuration
Global Templates and Blueprints
Sphere suggested and implemented a set of custom templates for tracking project documentation throughout all phases: Initiation, Planning, Execution, and Control. This solution filled the gap between business stakeholders and software project managers.
Global and Space Permissions
User Management and LDAP
Macros
Outcomes and Results
In response to Delta Dental's needs, Sphere Partners embarked on a transformative journey, crafting a proof of concept that seamlessly integrated Confluence and Jira, enhancing project management, fostering IT improvements, enabling portfolio management views, and facilitating comprehensive knowledge transfer for users at all levels.
New Proof of Concept

Sphere Partners created a proof of concept for Delta Dental's business cycle. The application configurations Sphere presented included C-level Confluence spaces with business templates and internal integrations, as well as interlinks with Jira Software projects to help Delta Dental gain a portfolio management view across different business areas.
After thorough planning, Sphere implemented new application settings that came together seamlessly. Delta Dental leveraged Sphere's recommendations, which resulted in instant improvements to the development and IT processes. They also gained the flexibility to manage dozens of large Jira Software projects. All of these enhancements were successfully implemented with legacy data intact.
Knowledge Transfer

Sphere Partners provided a set of short training demos for Jira Software, and held personalized sessions across teams to accommodate various experience levels. Finally, Sphere created a sophisticated knowledge base to empower every Delta Dental user, from software engineers to salespeople, with Jira and Confluence best practices.
Let's talk about your Customer Software Development project.
Fill out the contact form and one of our Client Partners will be immediately in touch within the next business day.
---
Our experienced senior consultants and engineers are ready to help you design your solution, scale your capabilities, eliminate technical bottlenecks, and accelerate speed to market.