Marketing Agency Turns to Sphere for monday.com platform integration, no-code workflow and data modeling
A boutique marketing agency looked to Sphere to integrate a new project management tool. They selected monday.com and Sphere helped to power their operations by creating data integrated workflows for every new client.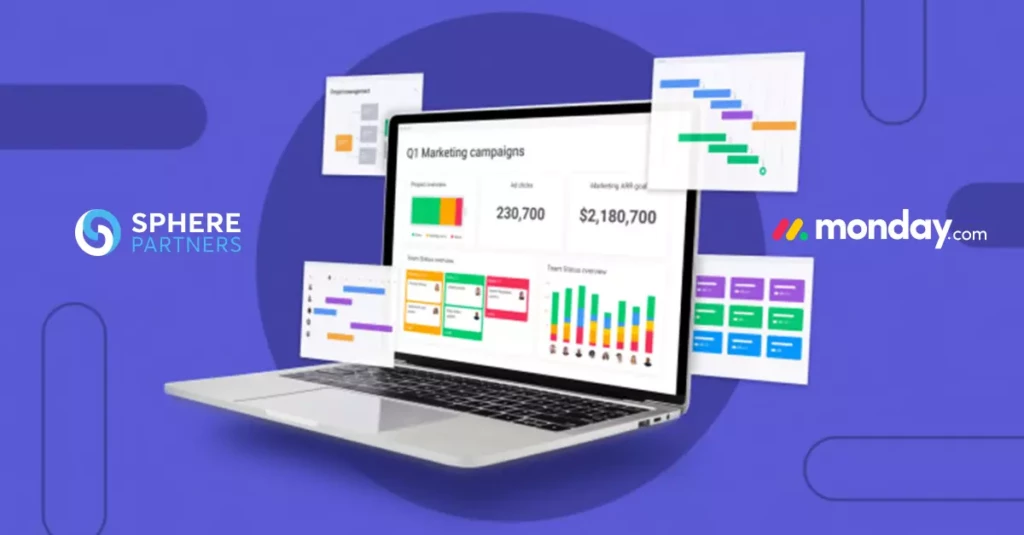 The Challenge
A marketing agency wanted to use a more efficient project management and workflow tool than their current solution (Wrike) to manage client engagements related to their marketing services. They used Salesforce CRM for primary customer data and while Wrike had a connection to Salesforce, they wanted to explore other options.
How It Was Solved
Sphere helped the client to model how the data would flow between systems and when data would generate which workflows. Depending on the customer type, the sequence of deliverables is different. Sphere helped construct the perfect workflow that kicked off when a new customer was created in Salesforce.
From there, the data generated particular boards and tasks for the delivery team.
A monday.com incoming requests board kept the list of incoming requests from Salesforce, including service level contracts, contract line items. Whenever data was imported from Salesforce, both boards were populated simultaneously and a decision algorithm was applied to determine which board sequences should be generated. Corresponding client name and service level tasks were populated from the templates' master-board to create a working environment for each particular service line and contract, for the team to start working on.
The Results
Sphere built the client's project with the help of an expert-level understanding of Salesforce objects, monday.com, and expert data modeling and transformation of critical information between both client systems. The client reports early success in delivering client projects faster and with more clarity and understanding between customer facing teams.