QA Automation
Robust testing processes and technology experience for companies seeking innovative and functional automated testing.
Every QA project includes the following:
Your consultants are all high performers. This means…
Senior QA automation consultants with 5 -10 Years of experience with QA Automation
Advanced automation test script development using Postman, Selenium, SoapUI, and other open source solutions
All QA automation consultants are proficient in Agile/Scrum
Comfortable with mobile architecture
Python experts and expert with API environments
Every QA project includes…
A dedicated QA manager from start to finish for all projects.
For security, your project is never shared outside of the QA team assigned.
Every project has a dedicated project manager assigned to ensure QA is completed on time.
All projects are assigned to a dedicated Quality Assurance team to ensure quality and performance.
Dedicated Development teams are available at a discounted rate if needed.
Increase your productivity and rate of release by 10X
As the applications and systems become more complex, software releases start becoming more unwieldy from new features and updates. Corporations soon find themselves spending 80% of their budget on bug fixes and only 20% on "true" development.
Sphere brings a unique blend of testing processes, tools, and technology expertise to ensure that the product is delivered without defects in an accelerated time frame. Sphere can increase your productivity and rate of release by 10X while reducing your cost of operations by more than 80%.
Sphere provides end to end manual/automation testing services for your functional and UI testing needs.
We undertake the complete responsibility for testing activities from creating an optimized test plan to post-production support. We adopt a user-centric testing approach, delivering continuous value improvement in our engagements. We ensure complete traceability of the business requirements. As a professional company for QA consulting, we provide extensive reporting at regular intervals to keep you on top of the testing progress and defects.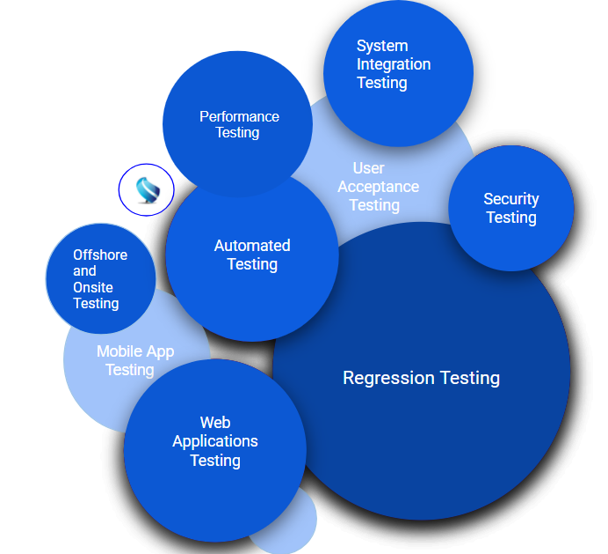 Why should you invest in QA Automation?
1. Reduced costs
In a range of situations (long-term projects, data-intensive application and more) automated testing results more efficient than manual testing in terms of time, efforts and costs.
30% Reduction in Resources
Reduced Downtime and Rework
Even if downtime was not catastrophic, you should be able to quantify the value of the time of staff diverted to doing manual workarounds during software downtime. Our automated tests give you better quality software and reduced downtime. So investment in automated testing may be justified.
20% Testing Speed
Losses due to lack of speed in adding new features
This may be harder to readily quantify, but as your software gets harder to change, you lose the agility you intended to gain when your company first took on agile software development techniques.
80% Yearly Cost Saving
Total software replacement cost
At some point your software will become partially or completely impossible to repair. We will always be there continuously modernizing your test infrastructure.
90% Reduction in Testing Time
Regression Testing Costs
This may be your easiest way to quantify a return on your investment. We can help you reduce your regression testing time by more than 90%.
2. Reduced time to market
Quality test automation reduces testing time and efforts from days to hours. Moreover, it provides for parallel testing, when the scripts are run on multiple devices, platforms, OSes and/or browsers. Our Automation Testing Solutions improve the software development process and provide a way to quickly react to fast-changing software and requirements. Our solutions utilize new technologies and tools to ensure your testing can accommodate ever faster development cycles.
3. Improved test coverage
Test automation improves test coverage for large data-intensive applications along with improving the quality of the test.
QA Automation Success Stories
iLoan
iLoan is a simplified web based loan application, approval, and origination platform. As a web based business, accelerating release processes without impacting the quality of ongoing projects was critical to the user experience and company growth.
Actions
iLoan was very motivated to reduce release cycle time and operational costs. Sphere's consultant proposed to automate manual testing operations concentrating upon making functional and UI testing more efficient. A Jenkins server was deployed and configured to run Ansible deploy tasks and automated regression tests. Additionally, a BBC Wraith and ImageMagick based tool was created to improve UI testing. Additional tools such as Browsermob, SinonJS, Sidekiq and Simple Sinatra were also employed in the creation of mock infrastructure and 'Time travel' functionality (to allow testing over long life cycles of loans)
The Result
iLoan improved their ability to release by 8X, releasing 4 releases per week up from 1 release in 2 weeks. Sphere's solution automated 90% of the acceptance test and 60% of UI test freeing testers for more meticulous manual testing.
Furthermore, regression testing time was reduced from 2 days to under 3 hours. Optimising testing operation led to $360K in yearly saving for iLoans and the project paid for itself within one quarter. The money saved in the form of reduced cost of testing, reduced cost of unexpected downtime and losses due to lack of speed in adding new features positively impacted both customer service and bottom line revenues
Enova
Enova is a technology and analytics service provider to the financial industry. As a FinTech disruptor modernizing an outdated test infrastructure was critical to staying current and relevant. The effort required to upgrade this complex multinational business without adversely impacting operations required expertise, sophistication and organisation, to achieve project aspirations across continents.
Actions
Enova believed that a faster-testing infrastructure and revamped system architecture was crucial to maintaining enova's competitive market leading position.
Sphere consultants started the automation effort by converting the legacy unit testing infrastructure to Rspec format and creating "Time travel" functionality to timeframe test data. Simultaneously, a parallel test distribution framework and a test reporting web application were created to easily search and filter test results. In addition, tools such as RSpec, Capybara, and Page object pattern were employed to create robust integration and acceptance tests for Enova.
The Result
Sphere's technology solution reduced Enova's regression testing time to a mere 25 mins from 36 hours earlier which directly relates to a reduction in employees. Additionally, change in operational parameters such as resources for quality assurance (↓30%), automated test execution time (↓5%), development speed (↑10%) and execution speed (↑10%) led to indirect cost saving. Enova drastically reduced its time to market with this new found ability to quickly identify failures. This gave a huge boost to its core business and added 200K per year in the form of reduced cost of operations
Sphere's Four Steps to Test Automation:
Test and Framework Development
Optimization and Maintenance
Sphere's Test Automation Services:
Sphere's Test Automation Services will help you…
Define and implement appropriate strategies and test automation methodologies

Measure, evaluate, and improve test cycles

Select the best tools for your product

Develop modular, reusable, and extensible automation frameworks

Integrate various tools & technologies with automation framework

Regression test your application

Improve testing communication flows

Develop robust automated tests and environments

Assess every test cycle thoroughly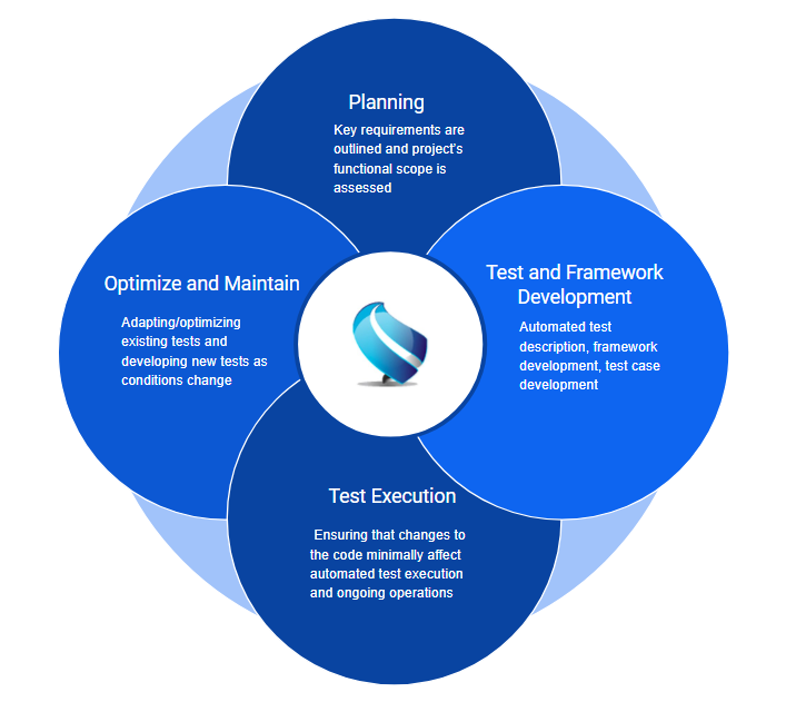 Keep release cycles on schedule and on budget.
Sphere's high quality automated software testing services are powered by QA managers and QA automation specialists experienced in developing high-quality automation.
QA automation is the primary enabler for increasing throughput and velocity.
From team augmentation to fully managed QA services, we can help with test plan creation, testing automation, and continuous quality. By developing automation around base features, we help you protect existing functionality while enabling throughput and velocity.
Sphere brings top QA talent to your business with functional testing services, automated software testing, and processes customized for your development needs.  
Eliminate the release bottleneck
The largest bottleneck slowing new releases? Testing (and more specifically Regression Testing). Testing forces companies to compromise quality for speed. Why rely on customer complaints to discover user experience issues, comprehensive QA has the ability to unlock customer value and better serve the end user.
Demand more agility in your testing
Sphere can help you deliver faster, reliable and repetitive testing that supports agile delivery. If your customers demand frequent product updates, let us help you develop automation that keeps pace with end-user demands.
Accelerate DevOps with testing
Are you using DevOps frameworks to bring in QA earlier for maximum end-user value? Are you struggling with test automation and breaking tests across iterations?  Let us show you how to identify the best test case candidates for automation scripting and accelerating your workflows and release schedules.
Deeper product knowledge for comprehensive product testing coverage
Unlike crowdsourced services, Sphere teams include only experienced professional QA engineers who understand your software inside and out. Avoid pay-per-fix bug models and instead focus on broader scenario coverage enabled by deep product knowledge.
Unified Testing and Communication
As an Atlassian Partner, Sphere can help you smoothly integrate your automated testing into new or existing Jira workflows.
With an integrated communications tool, you can merge powerful powerful automation scripts with Jira's dynamic communication in order to execute detailed testing, test multiple product lines, facilitate release schedules, ensure requirements-test case traceability, cite and manage regressions, and track incremental results.

Let us show you how to unite enterprise testing, metrics and analyses with the Jira software tracking platform to:
Define test issues

Retrieve test requirements

Report and manage defects

Link test cases to Jira issues

Test Jira reports

Create, manage, run test cycles and sets

Establish and execute traceability

Utilize test metrics to analyze results
With these and additional testing attributes, test automation provides a comprehensive integration of test functions that can analyze and assess any software project tracked on the Jira platform.